The Batman: See What Star Wars' John Boyega Could Look Like As Red Hood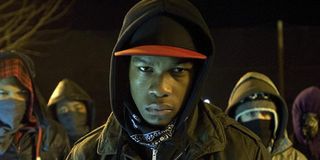 In the Batman mythos, the Dark Knight has a number of awesome villains to face off against—Penguin, Riddler, Two-Face, Mad Hatter, Joker, and, of course, Red Hood. But who could ever fill Red Hood's shoes? One DC fan has an idea, showing what Star Wars' John Boyega could look like as the shadowy villain.
Though John Boyega has fought invading aliens in Attack the Block and the First Order in the latest Star Wars trilogy, he hasn't appeared in a superhero movie just yet. But that hasn't stopped fans from dreaming about who he could play. For The Batman, one DC fan shared on social media what John Boyega might look like as Jason Todd/Red Hood. Check it out:
Wow. John Boyega playing Red Hood wouldn't have been my first pick, but after seeing this fan art, consider me intrigued. After all, John Boyega is a fantastic actor and could knock the Red Hood/Jason Todd role out of the park. And he's got experience with genre work.
Rather than being fan casting, John Boyega had pitched this idea himself on social media. When fans asked if he was interested in playing Static Shock or Green Lantern, John Boyega piped in shared his interest in Red Hood, instead. So since he's already got his eyes on the role, it should be interesting if the character ever appears in a live-action movie.
Then again, it's doubtful the Jason Todd/Red Hood storyline will be hitting the big screen just yet. The Batman starring Robert Pattinson will reportedly be set in 2019 and feature a younger Batman in his second year of crime-fighting. It's also reportedly based on The Long Halloween comic books.
The Batman still could have the debut of Robin. Early last year, there was a rumor that Robin would make an appearance. And then later, speculation mounted when The Batman might have put out a casting call for Robin. But, those casting call details included having circus skills which would allude to Dick Grayson, not Jason Todd. If Jason Todd did show up, rather than Dick Grayson, that would be a big change in the timeline.
It does seem like DC wants to hop into Red Hood's story, though. For a time, it looked like the DCEU was hinting at a Batman and Red Hood showdown back when Ben Affleck was developing a standalone movie with Geoff Johns. That movie would have been based on pivotal Red Hood stories, A Death in the Family, and Under the Hood. That project eventually got scrapped, though.
Time will tell if Batman eventually goes up against Red Hood on the big screen. Since he's often a popular foe against the Caped Crusader, I'd say the chances are good we'll see a version of the character come to life sooner rather than later.
Your Daily Blend of Entertainment News