Pom Klementieff Trash Talks Chris Hemsworth's Hammer, The Avengers In New Fantasy Football Video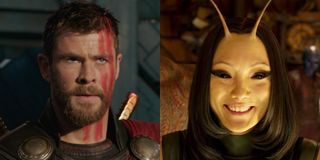 Football season is moving forward, and what better way to enjoy the season than joining your friends for some fantasy football… and the trash talk that comes with it. While many are likely enjoying the competition within their fantasy football leagues, the ones who seem to be enjoying it as much as anyone are the cast and crew of the Marvel Cinematic Universe. The group has teamed up with the AGBO Superhero Fantasy Football League, which includes Marvel alums like Anthony Mackie, Tom Holland and Ryan Reynolds. Now, Guardians of the Galaxy star Pom Klementieff has chimed in, and she's taking shots at the God of Thunder himself – Chris Hemsworth.
Marvel stars have been taking jabs at each other through videos and many have been choosing to throw shade through music. Pom Klementieff chose this same route, and the French actress belted out an anthem in her native tongue that destroyed Chris Hemsworth. From calling his iconic hammer "teeny weeny" to saying that his team has the value of a turd, Klementieff didn't hold back in the hilarious Instagram video. Check out her A+ video down below:
Simu Liu's Ryan Reynolds-centric diss track was great, as was Paul Rudd's lyrical video. But what Pom Klementieff does here is nothing short of masterful. From the production values to the perfect lyrics, she seems to have mastered the art of trash talk through music. And of course, she gets extra points for the cool cameos from Mission: Impossible 7 co-stars Tom Cruise, Rebecca Ferguson and Simon Pegg, who co-wrote the A+ song with her.
As mentioned, the stars of the MCU has been finding great ways to rip each other, as the football season continues. One of my personal favorite videos was one done by Avengers director Joe Russo, who went down the line and playfully "destroyed" all of the actors he's worked with.
The AGBO Superhero Fantasy Football League has been about more than hurling insults, though. At the onset, Robert Downey Jr. sought to raise money for charity with the league and is doing so in the name of the late Chadwick Boseman.
It's really nice to see that the stars are having a great time, but it's even better to see that they're also taking the opportunity to serve a greater cause. This entire league is a testament to their charitable spirits, and it also shows just how much fun they all have when they're working on something together.
With so much emotion going into this fantasy football league, it's likely to be a hard-fought battle, and it's hard to say who will come out on top. In the meantime, it'll be entertaining to see what actor decides to step up and call out one of their castmates next. And after Pom Klementieff's video, that person is really going to have to step up their game.
Keep it here at CinemaBlend for more news from the world of movies and TV.
Your Daily Blend of Entertainment News
Covering superheroes, sci-fi, comedy, and almost anything else in film and TV. I eat more pizza than the Teenage Mutant Ninja Turtles.