Ryan Reynolds Makes Up With His Mom After She Seemingly Takes Hugh Jackman's Side In Their Feud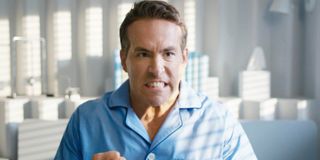 Anyone who's a fan of Hugh Jackman and Ryan Reynolds knows that the pair have been in a brutal -- okay, hilariously brutal -- feud for some time now. The actors regularly use each others' beverage brands, career moves and respective X-Men characters to put each other down on social media. They've even dragged their own families into the fray. The good news is that Ryan Reynolds seems to have made up with his mother after she temporarily took Hugh Jackman's side.
The most recent ad for Hugh Jackman's Laughing Man Coffee, posted on his Twitter account, featured the Wolverine star and his mortal enemy standing side-by-side (well… socially distanced that is), as the actor reminded fans that purchases of the brand benefit coffee growers all over the world. He then told viewers to ignore Ryan Reynolds' attempts to get them to purchase his own brand, Aviation Gin, instead:
The ad then cut quickly to a selfie video of Tammy, Ryan Reynolds' real life mother, confirming that her son is, in fact, friendless. A stunned Ryan Reynolds asked how Hugh Jackman got to his mother, to which the Aussie actor said, "She's staying with me."
The whole thing is even funnier because Ryan Reynolds responded to Hugh Jackman's tweet with the video with a desperate plea:
The whole interaction raises a lot of questions, of course - primarily whether we were dealing with some kind of hostage situation. Though, to be fair, Hugh Jackman may have gotten on Tammy Reynolds' good side with his Mother's Day message to her this year, in which he commended her for having the patience of a saint. However this feud escalation came to pass, it appears that all is well, at least for the moment, because Ryan Reynolds shared an update with fans underneath his last reply:
So Ryan Reynolds' mom is back safely in her son's arms and, hopefully, Hugh Jackman got some good promotion for Laughing Man out of it. This, of course, is not the first time that the two actors' feud has gotten really, really personal. The banter between the two has included making Hugh Jackman's son and even Blake Lively take sides.
Ultimately, though, we all know it's in good fun. Both actors have proven to be more than willing to play up their playful feud for the common good, whether it's to raise money for those in need or encourage pandemic safety protocols.
It's too early to tell whether Ryan Reynolds' mom will continue to be a factor in the actors' good-natured trolling of each other, or whether they'll up the stakes even more.
Your Daily Blend of Entertainment News