Altered Carbon Star James Purefoy Talks How Almost Landing 007 Has 'Plagued' His Life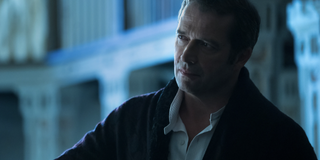 Many actors have moments that change the course of their careers. Sometimes, it's because they land a certain role. Other times, it's because they don't. Altered Carbon's James Purefoy has first-hand experience with this, because he came close to securing the role of 007 -- and he knows what it's like to face a decision that he knew would alter his life forever.
James Purefoy has built a solid resume over the past few decades, as he's taken on prominent roles in series like Rome, The Following and Sex Education. His career might have looked quite a bit different, though, if he'd taken a different path -- one that was presented to him on two separate occasions.
The Altered Carbon actor told The Independent that he was up for the role of James Bond, first before it went to Pierce Brosnan and again when it ultimately went to Daniel Craig. James Purefoy says that it wasn't an easy career choice to navigate:
Pulling back from arguably one of the biggest roles imaginable is a choice not everyone can understand. James Purefoy knows he's not the only one who had a hard time coming to terms with the idea of being 007 and that even Daniel Craig had reservations:
It is pretty easy to see why James Purefoy still feels conflicted. Even though he didn't get the role, it's something that influenced how some people perceive his career.
Though we don't know yet who will fill the role of Bond, now that Daniel Craig has left the franchise, we can assume that whoever it is may face some similar challenges.
Your Daily Blend of Entertainment News
Your Daily Blend of Entertainment News
Thank you for signing up to CinemaBlend. You will receive a verification email shortly.
There was a problem. Please refresh the page and try again.