Thor: 13 Behind-The-Scenes Facts About The MCU Movie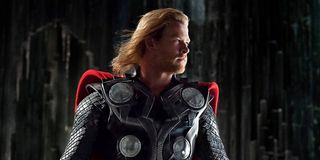 To realize that Chris Hemsworth made his debut as the God of Thunder in his first self-titled flick, Thor, a decade ago makes me feel as old as the Asgardian Avenger himself. It also makes me excited, because there is no better time than when a Marvel movie hits its 10-year anniversary to revisit it with some behind the scenes facts.
It is actually even more fascinating to look back on director Kenneth Branagh's commercially successful and somewhat well-received magical comic book epic now considering the paths its characters have since taken in the Marvel Cinematic Universe. Tom Hiddleston's Loki is about to be the center of his own self-titled series on Disney+, Clark Gregg's fan-favorite Coulson already has led his own series with Agents of S.H.I.E.L.D., Kat Dennings has re-entered the franchise as the now renowned astrophysicist Darcy Lewis on WandaVision, and Chris Hemsworth is about to be succeeded by Natalie Portman in the role of Thor, in a film directed by an Academy Award-winning filmmaker.
Indeed, our initial introduction to Asgard has taken us down many strange roads in the following years. However, the road (no, not the Bifrost) to first get to this breathtaking land and become acquainted with the godly warriors who inhabit it is not without its strange stories either. If that piques your interest, read on to learn more about the making 2011's Thor with the following 13 striking facts, starting with one "what if" scenario that could have changed the course of the franchise forever.
Chris Hemsworth Almost Passed On The Role Of Thor
Being a mirror image of the character, it impossible to imagine anyone other than Chris Hemsworth as the God of Thunder. Yet, as the Aussie revealed to the Sydney Morning Herald in 2017, the idea of agreeing to a six-picture deal almost discouraged him from taking the lead of Thor before he enthusiastically took the career-making role. Of course, like many other Marvel stars, he actually was not the first choice.
Liam Hemsworth Was Originally Considered To Play Thor
Many actors came close to playing Thor before Chris Hemsworth, including Daniel Craig, Channing Tatum, wrestler Triple H, and even Tom Hiddleston. However, the most hilariously ironic casting what-if is Hemsworth's own younger brother, Liam, who initially had a better chance at the role before Chris - much to the surprise of The Cabin in the Woods producer (and future The Avengers director) Joss Whedon. According to his comments to W Magazine, that sibling rivalry motivated him to earn and nail a second audition which, considering Liam Hemsworth's later success, he can't be too mad about now.
Plans To Introduce Thor's Other Brother Were Scrapped
Speaking of, the sibling rivalry at the heart of Thor could have been even more explosive if things had gone according to the original idea. There is a lesser-known Odinson brother named Balder who, based on concept art posted to Instagram by Marvel's Visual Development department co-founder Charlie Wen in 2018, almost had a role in the film. The post explains that Balder the Brave was ultimately left on the cutting room floor on the belief that focusing on just Thor and Loki's relationship was best for the feature.
Marvel Asked Thor's Writer To Make Loki "As Good As Magneto"
In fact, Marvel Studios was apparently very particular in how they envisioned Loki. Knowing that he would go on to be the main villain of The Avengers, they instructed Zack Stentz to make him better than their previous antagonists, and dropped Magneto as a source of comparison, as the Thor scribe revealed on The Fanboy Podcast in 2019. If looking to Sir Ian McKellen's X-Men role as inspiration was not key to making an irresistibly mischievous God of Mischief, it would have be Tom Hiddleston.
Tom Hiddleston Performed On Stage With Kenneth Branagh When Before Thor
The British Loki actor actually earned the chance to get the role through his friendship with Kenneth Branagh. As Tom Hiddleston recalled to People in 2019, the Murder on the Orient Express star discovered the then unknown in a Shakespeare play, made him his co-star on the BBC drama Wallander, and then performed together in a production of Chekov's Ivanov in 2008. It was around that time when Branagh was announced as the director of Thor, giving Hiddleston an in to land his life-changing role.
Kenneth Branagh Found Inspiration From Shakespeare When Directing Thor
Being a renowned veteran of Shakespearean stage acting himself, Kenneth Branagh was, luckily, able to channel that expertise into Thor, believing that the story drew comparisons to the iconic playwright. The filmmaker insisted on the parallels in the following quote from The Washington Post in 2011:
When it comes to creativity, they say it is always best to borrow from what you know, and I suppose that is all the evidence we need that Kenneth Branagh was always the best choice for the first Thor. Of course, the comic book movie's inspirations go back even further than the Elizabethan era.
Norse Mythology Played A Role In Thor's Production Design
Even comic book readers know that Thor is not an original Marvel property, having originated as a figure of Norse legend - which proved crucial in building the world of the film. On a bonus featurette from Thor's DVD release, designer Bo Welch claimed to have had "one foot in [comic book artist] Jack Kirby-land…, one foot in Norse mythology, and one foot in… modern, zen-like architecture" when envisioning the look of Asgard. Not only did the mythological roots inspire Thor's sets (many of which were built to scale without too much reliance on green screen), but also Alexandra Byrne's Saturn Award-winning costume design.
Chris Hemsworth Got Too Buff To Fit In His Costume Once Thor Began Filming
However, Thor's otherwise breathtaking costumes actually proved problematic for its star. In 2012, Chris Hemsworth told The Los Angeles Times' Hero Complex section (via SyFy) that he followed Marvel's instruction to "get as big as you can" so devoutly that, by the time shooting started, his wardrobe was tight enough to dangerously cut off his circulation. The jacked Aussie cut back on his workout regimen to fit in his armor more comfortably, while discomfort turned out to be a godsend for his co-star.
Tom Hiddleston's Uncomfortable Loki Helmet Fed Into His Performance In Thor
The most definable aspect of Loki's appearance is, unquestionably, his golden Horned Helmet, which one would be correct in assuming was no picnic for Tom Hiddleston to wear. Yet, as he revealed in the following excerpt from a 2010 MTV News story, the actor found a way to make it work in his favor while shooting Thor:
I think most would be agree that madness is one of the most definable aspects of Loki's personality. Therefore, we should be thankful for Tom Hiddleston's brain scrambling headgear.
Kat Dennings Was Sent To A Fake Address For Her Thor Audition
Speaking of brain scrambling, how crazy is Disney+'s WandaVision, right? Apparently, about as crazy as series star Kat Dennings' experience auditioning to first play Darcy Lewis in Thor, which she explained on the Keep It podcast involved being sent to a fake address where someone in a golf cart appeared to take her to the real location. This may not come as much of a surprise these days, given Marvel's famous commitment to keeping thing under wraps, but it's easy to see why the actress found the situation a bit odd - if not terrifying - back then.
Kenneth Branagh's Involvement Convinced Natalie Portman To Star in Thor
It is actually "oddness" that we can thank for Kat Dennings' onscreen astrophysics mentor, Natalie Portman, becoming involved with the MCU. The Academy Award-winning actress told The Guardian that when she first heard Kenneth Branagh was directing Thor, the idea sounded so weird that she had to take the part of Chris Hemsworth's love interest, Jane Foster. Now, as she prepares to take over as the lead of Taika Waititi's Thor: Love and Thunder, its seems that those gut feelings really are worth listening to.
The Thor Screenplay Was Leaked On The Internet Months Before Release
Speaking of Taika Waititi, the New Zealand filmmaker thought it would be funny to troll fans by leaking a fake script for his upcoming fourth Thor installment (and his second in the franchise after 2017's Thor: Ragnarok). Marvel seemed to take the joke well, but you can imagine how frustrating it must have been when the alleged real screenplay for the first film somehow found its way online before it came out. The studio and Paramount (the film's original distributor) were quick to demand the script be taken down from ComicBookMovie.com, preferring the film's Jeremy Renner cameo as Hawkeye, and other fun Easter Eggs and hints, to be saved for its summer release.
Joss Whedon Directed Thor's Post-Credits Scene
One of Thor's biggest hints for what was to come occurred in its post-credits sequence, in which Stellan Skarsgard's Dr. Erik Selvig meets Nick Fury (Samuel L. Jackson) to talk about the recently unearthed Tesseract, unaware that Loki is among them. The teaser, which leads directly into The Avengers the following year, was actually helmed by the crossover epic's own director, Joss Whedon.
Mention of Erik Selvig makes me wonder if Stellan Skarsgard is destined to make a return to the MCU anytime soon. If that news were to become a reality, among the countless other speculative reports surrounding this enduring franchise, make sure you hear it from us at CinemaBlend first.