How To Watch I Care A Lot Streaming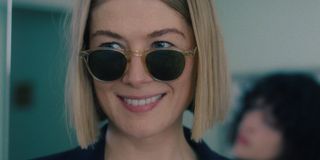 CinemaBlend participates in affiliate programs with various companies. We may earn a commission when you click on or make purchases via links.
If you are a fan of dark comedies, thrillers, and intricate crime stories with over-the-top characters and haywire situations, then J Blakeson's I Care a Lot is right up your alley. Led by Rosamund Pike as a successful con-artist who makes a living stealing from the elderly after being appointed their legal guardians, the witty and the raucous comedy was released digitally in lieu of a standard theatrical release on February 19, 2021. But with more streamers than award winners in the movie's all-star cast, you may be wondering where you can watch I Care a Lot streaming.
Where Is I Care A Lot Streaming
If you're trying to watch Rosamund Pike's Marla Grayson go from thinking Dianne Wiest's Jennifer Peterson is just another one of her cash cows to finding herself way over her head as she deals with the ramifications, and a determined mobster played by Game of Thrones star Peter Dinklage, you're in luck because there are a number of options depending on your specific location.
For those in the United States as well as territories like Latin America, Germany, South Africa, India, and the Middle East, Netflix is going do the job. All you need to do is log in to your Netflix account and search for I Care a Lot, though the movie will be featured heavily on the streamer's home page. After you take care of that you'll be watching this fast-paced and smash mouth crime flick in no time.
Watch I Care A Lot streaming on Netflix here. (opens in new tab)
Those living in territories like the United Kingdom, Australia, Canada, Ireland, Italy, and New Zealand will use Amazon Prime Video in place of Netflix. If you're in those territories, I Care a Lot is included with your Prime membership so no need to fork out any extra cash, especially to someone trying to lock you away in a nursing home.
Have you considered using a VPN? You may already use one as a way to keep your internet access secure when using public wi-fi, but did you know you can use a VPN to watch your favorite streaming content when you're traveling out of region? If you're traveling out of the United States area and still want to catch I Care A Lot on Netflix, consider using a VPN (opens in new tab).
Is I Care A Lot Available To Rent Or Buy?
Considering how Netflix doesn't release its original movies on other streaming services or physical media like Blu-ray or DVD, it looks like using your Netflix account is the only way to watch I Care a Lot, at least at this time.
Here's What CinemaBlend Had To Say About I Care A Lot
With a cast as stacked as the one featured in I Care a Lot and the film's crime-filled narrative, it should come as no surprise that the movie is latest entry to the list of great con-artist stories. CinemaBlend's Eric Eisenberg gave the movie 5 out of 5 stars, pointing out how I Care a Lot defies expectations:
Throughout his glowing review of I Care a Lot, Eric Eisenberg gives points for the movie's ability to make the audience's skin crawl in the best way, the fact that the cast looks like they're having a blast, and the clever nature of the narrative.
You can see for yourself when I Care a Lot begins streaming on Netflix (and Amazon Prime Video in other territories) on February 19. If you want to know what else is coming out this year, check out CinemaBlend's 2021 Movie Release guide.
Philip grew up in Louisiana (not New Orleans) before moving to St. Louis after graduating from Louisiana State University-Shreveport. When he's not writing about movies or television, Philip can be found being chased by his three kids, telling his dogs to stop yelling at the mailman, or yelling about professional wrestling to his wife. If the stars properly align, he will talk about For Love Of The Game being the best baseball movie of all time.
Your Daily Blend of Entertainment News
Thank you for signing up to CinemaBlend. You will receive a verification email shortly.
There was a problem. Please refresh the page and try again.