Upcoming Ezra Miller Movies: What's Ahead For The Flash Star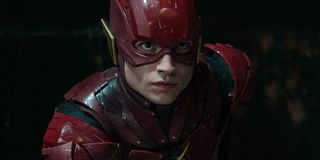 This past weekend, movie lovers and comic book fans finally got an opportunity to watch Zack Snyder's Justice League, the unlikely director's cut to WB's DC team-up movie. The restored four-hour blockbuster was twice the length of the theatrical cut, and it gave audiences everywhere a better opportunity to see Ezra Miller's take on The Flash, a comic book character they'll play once more in an upcoming spin-off movie.
While the theatrical version of Justice League was widely panned, Ezra Miller's quick (and quick-witted) portrayal of the super-speeder was well-received by critics and audiences alike, though it wasn't the first time that the actor impressed with their versatile talents. That said, between their commitments to the DCEU and the Fantastic Beast and Where To Find Them franchise, the artist certainly keeps themselves busy, and they have a variety of projects to keep an eye on in the months and years ahead — including a few smaller films that return Miller to their character-driven roots. If you're an Ezra Miller fan, here's what The Flash actor has coming up next, including Invincible!
*Invincible - March 26 *
In addition to their role as The Flash in the constantly-expanding DCEU, Ezra Miller has lent their star presence to another superhero project altogether. Specifically, they're part of the star-studded ensemble for Amazon Prime's Invincible, an upcoming animated series that also features the voice talents of Steven Yeun, J.K. Simmons, Mark Hamill, Sandra Oh, Seth Rogen, Gillian Jacobs, Andrew Rannells, Zazie Beetz, Walton Goggins, Zachary Quinto, Mae Whitman, Jason Mantzoukas, Mahershala Ali, Jonathan Groff, Jon Hamm, and Nicole Byer, to name a few famous stars involved in this high-profile series.
Based on the graphic novel of the same name by Robert Kirkman, Ryan Ottley, and Cory Walker, this soon-arriving adult animated streaming show will explore the not-so-ordinary suburban adventures of a mild-mannered teen who just-so-happens to be the kin of the world's greatest crime-fighter, only to develop his own superpowers. Ezra Miller is on-board to voice D.A. Sinclair, and it won't be long before we get a chance to hear this voice-only performance. The series makes its debut on March 26th. Hopefully, Invincible provides Amazon Prime with another super-sized hit on par with The Boys.
Fantastic Beasts and Where To Find Them 3 - July 15, 2022 (Filming)
It would be an understatement to say that the Fantastic Beasts franchise hasn't found the same success as Harry Potter. While the first installment was met with generally good notices from critics and audiences, 2018's underwhelming Fantastic Beasts: The Crimes of Grindelwald was a new low point for the wizarding world of Hogwarts; its messy storytelling, underwritten characters, and heavy exposition dumps resulted in a flat, boring continuation. Hopefully, the currently-filming Fantastic Beasts 3, which remains untitled, will spark magic in the series once more. It's hard to say with the same creatives involved, but the sequel also includes Eddie Redmayne, Dan Fogler, Katherine Waterston, Alison Sudol, Zoe Kravitz, Jude Law, and Ezra Miller reprising their roles from the previous movies, along with Mads Mikkelsen replacing Johnny Depp.
Certainly, the final moments of Fantastic Beasts: The Crimes of Grindelwald suggested that Ezra Miller would play a larger role in this next installment, and it wouldn't be surprising, considering their rising star power. It should be noted, though, that the actor split their time between this new movie and reshoots for the Snyder Cut during Fantastic Beasts 3's extended production schedule. Nevertheless, we'll have to wait until July 15th, 2022 to see how this third (potential final?) installment in the prequel series shapes up. At the very least, it can't be worse than Crimes of Grindelwald, right?
The Flash - November 4, 2022 (Pre-Production)
Rather ironically, it has taken a long time for The Flash to make its way onto the silver screen. First starting development back in 2014, this solo superhero film has had a tumultuous history, to say the least, with a revolving door of different directors and writers entering and leaving the project at various stages of the creative process. In fact, even Miller was involved as a screenwriter at one point. Now, after years in development hell, the project is finally getting off the ground. Near the start of 2021, it was revealed that production on The Flash would reportedly move forward this April.
Directed by Andy Muschietti (IT), this long-troubled DC blockbuster will have been in the works for nearly ten years when it arrives on November 4th, 2022 (assuming it makes that date). Hopefully, all that time and effort results in a film that's as spirited as Miller's energetic performance. The actor was one of the bright spots in Justice League's theatrical version, and they got even more time to shine in Zack Snyder's cut. It hasn't been a sprint to the finish line, but here's hoping the long wait was worth it in the end.
Dali Land - TBA (Pre-Production)
Over the past few years, as this article should make apparent, Ezra Miller has primarily been attached to franchise properties, notably with Justice League and the Fantastic Beasts movies taking up the majority of their time. While the prolific actor isn't hurting for work, to say the least, it's a shame that they haven't had too many opportunities of late to return to the character-driven movies that once defined their career. Movies like Afterschool, We Need to Talk About Kevin, The Perks of Being a Wallflower, and The Standford Prison Experiment, for instance, have generally been left in the rearview mirror, with Miller primarily focusing on big-budget blockbusters. That said, they might soon have an intriguing opportunity to return to more dramatic, small-scale productions with Dali Land, a biopic where Miller would play a younger version of Salvador Dalí.
Directed by Mary Harron (American Psycho), it should be noted that Dali Land has Ben Kingsley cast in the role of the late surrealistic artist, though Ezra Miller would play the part in a series of flashbacks. As of January, the movie is in pre-production, though it's unclear when shooting is expected to start, especially if The Flash will begin production in April. Should it come together soon, though, this real-life role would certainly give Miller one of their most high-profile acting jobs to date, as it's an undeniably daunting task to play such a prolific, original, and ultimately iconic artist. Nevertheless, while it's fun to see the actor play characters like The Flash, one hopes this new movie provides Miller with a chance to return to the character work that first established their talents.
The Mourner - TBA (Announced)
Likewise, The Mourner, based on the Japanese novel of the same name by Arata Tendo, sounds like a return to Ezra Miller's moodier indie roots, allowing the dramatic actor to explore pensive and deeply thoughtful characters who are caught up with deepened, brooding feelings about mortality and maybe the bleaker aspects of human existence.
Previously adapted in 2015, The Mourner will follow "a jaded and embittered homicide detective on the trail of murderous sex traffickers who discovers new spiritual meaning in her life" when she encounters a mystical young person (Ezra Miller) "whose calling in life is to mourn the dead who have no one else to mourn them," as Deadline reported. Set to be directed by Casper Kiriya (Last Knights) with a screenplay adapted by Robin Shushan (Feed the Beast), production was originally expected to start in 2019, though it appears to have stalled since then. It's unclear if the film was delayed due to the pandemic/Miller's busy schedule, but developments have been slow in recent years.
Nevertheless, if The Mourner does come together, it'll be a return to the type of roles that once defined Ezra Miller as an actor, before they donned Flash's red suit or joined the wizarding world of Hogwarts. While it's nice to see Miller showcase their expendable and versatile talents in high-profile projects, it'll be comforting to see them return to the small-scale roles that proved their promise at the start of their career.
Producing: Neptune Frost - TBA (Filming)
After nearly 15 years as a performer, Ezra Miller only continues to branch out and expand their creative outreach. In addition to their work as an actor, Miller is producing Neptune Frost, an upcoming sci-fi musical directed by musician and co-producer, Saul Williams. According to Deadline, this forthcoming film is set to follow "an intersex African hacker, a coltan miner and the virtual marvel born as a result of their union."
As the first official movie under Ezra Miller and Saul Williams' recently-established production company, MartyrLoserKin, this sci-fi musical definitely sounds intriguing. It also sounds like it'll stay true to the newfound studios' mission statement, which will honor their collective creative desire to "create and proliferate works" which aim to showcase "more poetic, queer, explorative, anarchic, diverse, subversive, non-binary, aboriginal, environmental, ecological and esoterically conscious content that will speak to both the times in which we live and the forces that seek to restrict them."
Otherwise, details are limited about Neptune Frost, but the indie production is currently filming in Rwanda, and it's worth noting that it comes from executive producer Lin-Manuel Miranda. It's apparent that this is a passion project for Ezra Miller and Saul Williams, and it's not hard to see why. This is one to look out for in the months ahead, particularly as it could be the promising start of Miller's career behind-the-camera.
Your Daily Blend of Entertainment News
Will is an entertainment writer based in Pittsburgh, PA. His writing can also be found in The Playlist, Cut Print Film, We Got This Covered, The Young Folks, Slate and other outlets. He also co-hosts the weekly film/TV podcast Cinemaholics with Jon Negroni and he likes to think he's a professional Garfield enthusiast.
Your Daily Blend of Entertainment News
Thank you for signing up to CinemaBlend. You will receive a verification email shortly.
There was a problem. Please refresh the page and try again.