How Ana De Armas Responded To Rumor (She Sorta Started) That She Might Be Back With Ben Affleck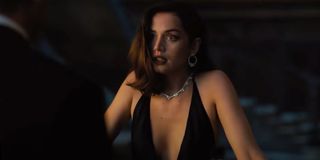 One of the biggest stories to come out of 2020 -- outside of the lengthy pandemic -- was the intense and high-profile romance between Knives Out actress Ana de Armas and Ben Affleck. That relationship may not have lasted as long as many may have expected early on in the whirlwind romance, but it was a big deal in pop culture, propelled by the rise of de Armas' career in the U.S. and Ben Affleck already being an A-lister. Months later, eyeballs are still riveted on Ana de Armas' personal life, to the point where a move by the actress on Instagram Stories then led her to have to debunk rumors regarding a potential rekindling.
In fact, this week Ana de Armas may have inadvertently started a rumor herself. She took a photo for Instagram Stories -- which is not in and of itself particularly unusual. However, please note the necklace in the image, because it is important to this story.
Those eagle-eyed Ana de Armas and Ben Affleck fans may already known the couple had previously each sported one half of a bff necklace while out on their daily walks during quarantine. In the image, the actress has on said necklace again, which apparently sparked enough speculation that de Armas caught wind of it.
While Taylor Swift may be out there leaving breadcrumbs for her fans all of the time, apparently, this does not seem to have been Ana de Armas' main goal when she posted the initial picture. A few hours later, she took to Instagram to seemingly debunk any rumors that she and the Batfleck might be back on.
The romance last year was high-profile just given the people involved, but there was also a level seemingly an additional level of investment from the fanbase as many people were spending extended hours in their homes and on the internet. As the pandemic wore on, so did stories about the couple, and by October, it seemed as if Ana de Armas and Ben Affleck might be moving in together. Yet, the romance faded rather fast and by January reports indicated the couple had broken up, a move which Ana de Armas later hinted at with a brand new haircut, before Affleck confirmed by throwing out a cutout of the actress his kids had jokingly given him.
While the two may be putting their coupledom behind them, this isn't the end of the Ana de Armas and Ben Affleck saga. The two actually met on the set of a movie Deep Water. While in a normal year that movie would have already come and gone, thanks to the pandemic, the film has not yet been unleashed on the masses. So, at some point press is going to need to be undergone for Deep Water and assumedly even if the two don't interview together there are still months to come before the former couple is fully forgotten. At least the No Time To Die premiere will no longer have to deal with the logistics of whether or not Ben Affleck will show up on the red carpet...
Deep Water is expected to come out August 13, 2021 and a lot could happen in the personal and professional lives of celebrities until then. Case in point, Ben Affleck's Batman is unexpectedly (until recently) back in the spotlight thanks to the release of Zack Snyder's Justice League this weekend, which is currently available streaming on HBO Max.
Reality TV fan with a pinch of Disney fairy dust thrown in. Theme park junkie. If you've created a rom-com I've probably watched it.
Your Daily Blend of Entertainment News
Thank you for signing up to CinemaBlend. You will receive a verification email shortly.
There was a problem. Please refresh the page and try again.