Jordan Peele: 6 Cool Facts About The Get Out Director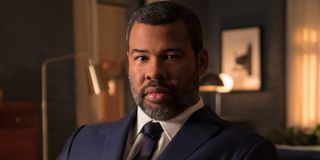 No one, even the man himself, could have predicted the success that Jordan Peele has achieved. Fans who have followed him since even his MADtv days clearly recognized his talent as clever comedic mastermind, but they may not have foreseen writing, producing, and directing Get Out, the thought-provoking 2017 thriller that won him an Oscar, in his future.
However, you can easily see traces of his passion for horror all throughout Key & Peele, the extremely popular Comedy Central sketch comedy series he co-created with his MADtv co-star and friend Keegan-Michael Key, such as a sketch featuring racist zombies in the first Halloween special or another in which Jordan Peele plays a young patient with increasingly sadistic requests for the Make-A-Wish Foundation. That passion would also open doors for the Us director as an increasingly prolific producer of genre-redefining projects on TV and theaters alike, including a new edition of The Twilight Zone, on which he also fills in for Rod Serling as host.
It is hard find anything freshly fascinating to say that has not already been said about someone like Jordan Peele. However, we are going to try anyway with these 6 facts about the groundbreaking artist that you may not have known about him before.
Jordan Peele Appears In "Weird Al's" "White & Nerdy" Video
In Keanu, which was the first screenplay co-written by Jordan Peele to receive a theatrical release, he and Keegan-Michael Key play average, geeky suburbanites who encounter some very intimidating characters while trying to rescue the titular kitten. However, those roles were reversed when the duo, at the height of their MADtv fame, made an appearance in the [video for "White & Nerdy,"](https://www.youtube.com/watch?v=N9qYF9DZPdw%E2%80%A6https://www.cinemablend.com/new/Weird-Al-Making-Another-Movie-16739.html which is arguably more iconic than the Chamillionaire song it parodies. Key and Peele are actually the first of several people that "Weird Al" Yankovic's aspiring "gangsta" fails to impress in the short that reinvigorated the musical comedian's career in 2006.
Jordan Peele Was Offered A Job On Saturday Night Live
While Jordan Peele's stint as part of the cast of MADtv opened many doors for him after joining in 2003, it also prevented him from achieving a lifelong dream of his. According to THR, as he recalled during a Q&A at the Upright Citizens Brigade Theatre, in 2008, Peele was offered the chance to become a regular on Saturday Night Live, but the producers of the Fox sketch series refused to let him out of his contract which had yet to expire. The actor exited the cast as soon he got the chance without looking back, at first crushed by the stolen opportunity, but later imbued with motivation to make his own art a reality as a producer.
Jordan Peele Went Undercover At A Get Out-based College Course Lesson
Even before Get Out earned him a groundbreaking Academy Award win for Best Original Screenplay, Jordan Peele's inspiration to create his own art had already paid off wonderfully, having inspired college educators to include said film in their lesson plan. In late 2017, Peele was asked by UCLA professor Tananarive Due to visit her black horror history on a day his directorial debut was to be discussed, but agreed to have a little more fun with it than a simple appearance. The filmmaker posed as a student in the back of the room, waiting for the cue to raise his hand and reveal his presence, which the surprised class went nuts over, as seen in one student's video from the tweet below:
An Offer To Star In The Emoji Movie Drove Jordan Peele To Quit Acting
Shortly after the release of Get Out, Jordan Peele announced that he might consider abandoning acting in favor of directing, but would later reveal while accepting a 2018 Director's Guild Award, that an entirely different movie is really to blame for his early retirement. As Vanity Fair reported, the director found his offer to play poop in The Emoji Movie a little "fucked up," but chose to at least sleep on the idea before learning that Sony went with Sir Patrick Stewart to voice the talking piece of digital fecal matter.
Peele has since lent his voice to some movies, such as Toy Story 4, and Netflix cartoon Big Mouth and, of course, continues to host his Twilight Zone reboot, so it looks like we have not seen the last of onscreen presence after all.
Both Get Out And Us Feature Hidden Cameos By Jordan Peele
Speaking of having an onscreen presence, despite his primary role as producer, writer, and director of Get Out and his doubly chilling 2019 follow-up Us, Jordan Peele does have an acting role in both films, but chose to keep them discreet, Hitchcock-style. In addition to narrating the United Negro College Fund PSA in Get Out (i.e. "The mind is a terrible thing to waste"), Peele is also the voice of the deer that Chris (Daniel Kaluuya) and Rose (Alison Williams) hit near the beginning of the film. He plays another dying animal, this time a rabbit, in Us.
Key & Peele Had To Turn Down Obama's Request To Star In A Sketch
Jordan Peele is arguably best known on Key & Peele for his impersonation of Barack Obama, which made a fan out of the former U.S. president himself, who even contacted Peele and Keegan-Michael Key hoping to collaborate on a comedy bit to promote the Affordable Care Act. Unfortunately, as the duo revealed to Entertainment Weekly, scheduling conflicts with shooting their show made it impossible. However, Obama eventually was able to promote the act in a legendary segment of Zach Galifianakis' Between Two Ferns and Key got to perform with him at the 2015 White House Correspondents' Dinner as his anger translator, Luther, so we'll chalk it up as a win-win.
Be sure to check back for updates on the Academy Award-winning horror maestro and funny man, as well as additional eye-opening trivial bits about your favorite celebrities, here on CinemaBlend.
Jason has been writing since he was able to pick up a washable marker, with which he wrote his debut illustrated children's story, later transitioning to a short-lived comic book series and (very) amateur filmmaking before finally settling on pursuing a career in writing about movies in lieu of making them. Look for his name in just about any article related to Batman.
Your Daily Blend of Entertainment News
Thank you for signing up to CinemaBlend. You will receive a verification email shortly.
There was a problem. Please refresh the page and try again.