American Fighter Clip Deals With Post-Fight Racism, 80s Skate Parties And A Love Connection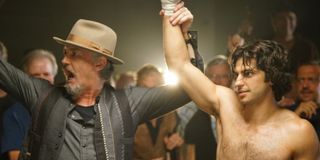 How far would you go save a dying parent? Shaun Piccinino's latest film, American Fighter, answers this question for Ali (played by George Kosturos), a college wrestler who enters the hidden world of underground fighting in an effort to earn cash to save his deathly ill mother. This film takes a promising fighter who lacks skills and pairs him with a trainer (Sean Patrick Flanery) who just might make a fierce competitor out of him.
American Fighter is rated R for violence, so if that's up your alley then get ready, but if fight movies aren't your thing, don't discount this one just yet. The movie explores far beyond Ali's fight training and motivation behind it. Our main character is a college student, and a minority one at that, so we get to see how he deals with racism on campus, partying in the 80s, and falling in love. Check out the clip below to see what I'm talking about.
We can infer at the start of the clip that Chet (Vince Hill-Bedford) is a big shot on campus. He's the star of the wrestling team, but Ali (George Kosturos) showed up and beat him and now he's insecure. When racial slurs are thrown his way, Ali stands his ground but doesn't call attention to it and kind of dismisses the interaction, stating that he's "used to this." This could be a glimpse into why Ali isn't a great fighter to start; metaphorically he can take a punch, but can he give one?
As the scene continues, Heidi (Allison Paige), who is clearly admired by both boys, comes to Ali's defense and insists that racists should no longer have a place in 1981. This scene is an excellent example of how to be an ally and shows that even very short conversations about race that simply acknowledge what happened can have an impact.
If you're anything like me, you were especially drawn in by the budding romance between Heidi and Ali in the above clip from American Fighter. The chemistry between George Kosturos and Allison Paige is fantastic. They really captured the nuance of the first meeting where it's subtle but they're definitely going to fall in love and I can't wait to watch the rest of this storyline play out. I may be a hopeless romantic but sign me up!
With American Fighter being set in 1981, we get lots of fun 80s touches including fashion. The males in the scene are all dressed in campus sportswear, but the ladies enter in vibrant 80s colors with the high ponytail, headband, leotards under off-the-shoulder sweatshirts, and I am so here for it. The clip mentions a skate party, so the costume design in that scene is sure to please. Fashion always makes its rounds, and it's exciting to see through film which of these trends from the past have returned today.
When planning your next movie night, keep American Fighter on the list. It has something for everyone. It's an underdog story about a desperate teenager caring for his mother that includes the lighter moments in life like falling in love, as well as the darker moments like experiencing racism and underground fighting. But that's life - ups and downs, light and dark - and what a better way to accurately depict that than to include all of these?
American Fighter arrives in select theaters and everywhere you rent movies on May 21st. The official trailer is out now. See how this film stacks up against fan-favorite Fight Club. CinemaBlend has curated watchlists for wrestling fans on Netflix and Peacock users who want to take a look back on the groundbreaking moments of wrestling.
Your Daily Blend of Entertainment News
Obsessed with Hamilton and most things Disney. Gets too attached to TV show characters. Loves a good thriller, but will only tolerate so much blood.
Your Daily Blend of Entertainment News
Thank you for signing up to CinemaBlend. You will receive a verification email shortly.
There was a problem. Please refresh the page and try again.