Upcoming Jeffrey Wright Movies And TV: What If...?, The Batman, And More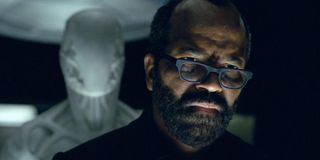 We over here at CinemaBlend often like to play around with hypothetical situation where we imagine various Marvel and DC characters any given actor or actress would be perfect to play. Well, with someone like Jeffrey Wright, that's a game we don't have to play because the Golden Globe-winning actor will appear in both universes in the very near future (The MCU's What If…? and DC's The Batman in case you were wondering).
But it isn't all Marvel cartoons and live-action Gotham adventures for Jeffrey Wright as the veteran actor is set to reprise his role of Felix Leiter in the upcoming No Time to Die, try his at hand at Wes Anderson's brand of comedy in The French Dispatch, and even show up in a Batman audio adventure, plus more in the next year or so. There's a lot to break down here, including his return to the HBO sci-fi series Westworld, so let's go ahead and get into it…
What If…? - Mid 2021 (Post-Production)
There has been talk of What If…?, the animated anthology series offering alternate versions of the Marvel Cinematic Universe's biggest moments, coming to Disney+ for two years now, and no matter how much we hear about (the possible moments being featured, the cast, ideas for future seasons), no one seems to be able to get enough of this exciting project. With a mix of major characters like Captain America, Black Panther, and Iron Man and minor players like Peggy Carter, The Collector, and Crossbones, it sounds like What If…? will be just as epic as the first 23 movies in the MCU.
Guiding us on this journey will be Uata, aka The Watcher, a member of an extraterrestrial race that observes the universe while only occasionally interfering in major events. When casting the role, who will be a part of each of the first season's 10 episodes, showrunner AC Bradley told DiscussingFilm.com that Wright was the best choice because his voice is powerful yet warm and inviting. The show's producers were also looking for someone who could portray the character in a way that wouldn't come off like they were lecturing the viewer but instead watching it alongside them.
What If…? is currently set to debut on Disney+ at some point in the middle of 2021, though an exact release date yet to be announced by Marvel.
No Time To Die - October 8, 2021 (Post-Production)
Jeffrey Wright has played CIA operative and the closest thing James Bond has to a friend, Felix Leiter, going back to 2006's Casino Royale but hasn't appeared in the franchise since 2008's Quantum of Solace. That is going to change when No Time to Die (eventually) comes out in theaters. Leiter, who has been portrayed by more than a half-dozen actors going back to 1962's Dr. No, will once again be pulling 007 back into action, as Wright revealed in a 2019 interview with the New York Times, though exactly what he means by that remains to be seen.
No Time to Die is on the list of movies that released into the wild by now as the 25th James Bond film was originally set to be released in November 2019 before jumping around between February and April 2020. The movie became one of the first major releases to move its release date at the start of the COVID-19 pandemic, shifting its premiere to November 2020 (after all the marketing material for the April release were printed). No Time to Die was delayed again to April 2, 2021 before getting pushed once more to its current date of October 8, 2021.
The French Dispatch - TBD (Completed)
No Time to Die isn't the only movie starring Jeffrey Wright whose release was pulled just as the movie was set to hit theaters and even had a wild trailer. Wes Anderson's star-studded comedy The French Dispatch, which has been called a "love letter to journalists," consists of three different storylines with different sets of characters and even casts that are that are threaded together by the fictional The French Dispatch magazine in Liberty, Kansas. In the film, Jeffrey Wright takes on the role of Roebuck Wright, a southern food writer loosely based on author James Baldwin and journalist A.J. Liebling.
Originally set to make its debut at the Cannes Film Festival in May 2020 with a wide release following a few months later on July 24, The French Dispatch was pulled from the schedule after the famous French film festival was cancelled due to the COVID-19 pandemic. Wes Anderson's latest film was then given an October 2020 release, but that was later called off and it looks like it will hit theaters sometime after premiering at the 2021 Cannes Film Festival, per the Playlist.
The Batman - March 4, 2022 (Filming)
The character of James Gordon (whether as a detective or commissioner) has been portrayed by a few of Hollywood's most notable stars in the past with everyone from the late Pat Hingle to Gary Oldman playing different versions of Batman's biggest ally with the Gotham Police Department. That role will now be taken on by Jeffrey Wright in Matt Reeves' upcoming The Batman, where he will help Robert Pattinson's Dark Knight deal with the scum of Gotham and a dark and twisted version of The Riddler, played here as a serial killer by Paul Dano.
Set within Bruce Wayne's second full year as the caped crusader, The Batman is a project that has been in the works for nearly a decade now with Ben Affleck at one point set to write, direct, produce, and star in the Gotham City tale. The project was eventually ironed out over the years with Matt Reeves coming in to take over the script that sounds like nothing we've seen from the property.
The Batman finally entered production in January 2020 but didn't make it too far before the set was shut down due to COVID-19. Filming eventually resumed but was entered a start-and-stop pattern due a number of different factors and the film's debut was eventually pushed out of its first two release dates, ultimately ending with the March 4, 2022 date.
Ark: The Animated Series - 2022 (Pre-Production)
Ark: Survival Evolved, the 2017 action-adventure survival game where players are faced with multiple apex predators (both human and dinosaurs), will follow suit with pretty much every other major video game release of the past decade and get its very own television adaptation at some point in the not so distant future. Ark: The Animated Series was first announced at The Game Awards in December 2020, when a trailer as well as the show's impressive voice cast were revealed to those watching Geoff Keighley's annual celebration of all things video games.
Ark: The Animated Series will follow modern Australian paleontologist Helena Walker (Madeleine Madden) after she awakes on the ARK, where she is forced to survive and find allies or face death at the hands of warlords. In addition to Madden, the animated series will also feature characters voiced by Elliott Page, Alan Tudyk, Gerard Butler, Karl Urban, Russell Crowe, David Tennant, Vin Diesel, Michelle Yeoh, Jeffrey Wright, and too many other famous actors to name. At the time of its reveal, Deadline announced that Ark: The Animated Series is scheduled to premiere at some point in 2022.
Westworld Season 4 - TBD (Pre-Production)
Jeffrey Wright has been a mainstay of the HBO sci-fi fantasy series Westworld since the show's inception nearly five years ago, whether it be with the role of Bernard Love, the park's head of programming and creator of its artificial intelligence who is actually an android himself or the park's creator, Arnold Weber. And especially after the much-talked-about Season 3 finale in 2020, Wright will be around as he character continues to grow as the show moves into its fourth season.
Westworld Season 4 was officially given the greenlight in April 2020, but when the HBO hit series will return to our television screens remains a mystery at this time. The show's return isn't the only thing that is unknown about Westworld as HBO has yet to reveal exactly when the cameras will start rolling again on the adaptation of Michael Crichton's 1973 western thriller of the same name. With all of the delays being experienced by other shows and films on account of the ongoing public health crisis, don't expect to see Westworld Season 4 until 2022 at the earliest.
Batman: The Audio Adventures (Podcast) - TBD (Pre-Production)
Jeffrey Wright's last upcoming project has him returning to Gotham City, but instead of playing Batman's most famous ally, he will be taking on the role of the Caped Crusader himself. Batman: The Audio Adventures, an upcoming podcast will see the No Time to Die actor take on a more comical version of Batman and his ultra-top-secret identity, Bruce Wayne.
According to The Hollywood Reporter, Batman: The Audio Adventures is a comedic take on the property written and directed by longtime Saturday Night Live scribe Dennis McNicholas and will premiere on HBO Max at some point in 2021. The story is being kept under the wraps at this point in time, but expect a lot of laughs considering the voice cast that includes Jason Sudeikis, Brooke Shields, Rosario Dawson, John Leguizamo, Bobby Moynihan, Kenan Thompson, and several others.
Well, it certainly looks like we'll be seeing (and hearing) a lot from Jeffrey Wright in the next year or so. With so many of these projects early on in production (and even those that have been completed or are nearing completion), it should be noted that a lot can change between now and their release. That being said, check out CinemaBlend's updated 2021 Movie Release Schedule for all the latest changes.
Philip grew up in Louisiana (not New Orleans) before moving to St. Louis after graduating from Louisiana State University-Shreveport. When he's not writing about movies or television, Philip can be found being chased by his three kids, telling his dogs to stop yelling at the mailman, or yelling about professional wrestling to his wife. If the stars properly align, he will talk about For Love Of The Game being the best baseball movie of all time.