What To Watch On Streaming If You Like Bill Murray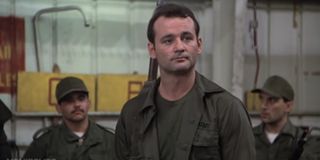 Bill Murray began his acting and comedy career in the 1970s. He took that start over 40 years ago, and rode it all the way to becoming a popular actor and highly respected performer. Murray has built such an enduring career because he constantly evolves and adapts to new projects. He's best known for his comedic flair but he has been praised and awarded for his more dramatic roles. Bill Murray can really do it all.
For fans of Bill Murray, there is a large selection of film and TV projects available to watch. Whether you're in the mood for funny Murray or dark funny Murray or just dramatic Murray, the world of streaming services will provide. If it's a Bill Murray kind of day, here are some of the movies and TV shows available to stream.
Groundhog Day (Netflix)
Most people's worst nightmare comes true in the 1993 movie Groundhog Day. In the film, Murray plays a grumpy weatherman who is forced to live the same day over and over again. Like any good movie with the time loop concept, he can't break the loop until he does things right. Andie MacDowell stars alongside Bill Murray.
Why It's A Good Option for Bill Murray Fans: Groundhog Day is one of Murray's most well known and beloved movies. It's a hilarious film that highlights his signature style of comedy, and the ability to make funny and heartfelt characters. Groundhog Day is a comedy classic that many people gladly watch over and over again.
Stream it on Netflix here (opens in new tab).
Rushmore (IMDBTV)
Rushmore is the first Wes Anderson and Bill Murray film collaboration. Rushmore follows Max Fischer (Jason Schwartzman), a teen with a passion for extracurricular activities. He befriends billionaire Herman Blume (Murray), but their friendship is tested when they fall for the same woman, Rosemary Cross (Olivia Williams).
Why It's A Good Option for Bill Murray Fans: This is probably Bill Murray's best Wes Anderson character. Herman is ruthless, sly but also endearing and likable. The extreme levels that Herman and Max's battles reach leads to some very funny moments.
Stream it on IMDBTV here (opens in new tab).
Broken Flowers (Peacock)
Jim Jarmusch wrote, directed, and produced Broken Flowers, a movie about a man tracking down several of his ex-girlfriends to see if he fathered a child with one of them. The Broken Flowers cast includes Jeffrey Wright, Sharon Stone, Frances Conroy, Jessica Lange, Tilda Swinton, and Julie Delpy.
Why It's a Good Option for Bill Murray Fans: Broken Flowers is another one of Murray's more dark comedy roles. This 2003 film has an all-star cast and really helps showcase the layers and nuances of Murray's acting. He's an actor that gets better with every new acting challenge.
Stream it on Peacock here (opens in new tab).
The Bill Murray Stories (Netflix)
The Bill Murray Stories: Life Lessons Learned for a Mythical Man is a 2018 documentary about random encounters people had with Murray. It's a way to explore and investigate some myths surrounding the comedian and share some of the things that make him great.
Why It's A Good Option for Bill Murray Fans: The Bill Murray Stories is a whimsical documentary that shines some light on the wonder that is Murray. It showcases his unusual style of living and highlights why he seems like such a likable celebrity. For Bill Murray fans, this documentary gives you a slight look into Murray's mind and presents fun stories from encounters with him.
Stream it on Netflix here (opens in new tab).
Space Jam (HBO Max)
Space Jam is a 1996 live-action and animated sports comedy. The Looney Tunes have been abducted from earth by Mr. Swackhammer. The Looney Tunes challenge Mr. Swackhammer's men, the Nerdlucks, to a basketball game. The Nerdlucks kidnap NBC stars such as Charles Barkley and Larry Johnson to help with the game. The Looney Tunes enlist Michael Jordan.
Why It's A Good Option for Bill Murray Fans: Bill Murray has an unexpected cameo in Space Jam. He ends up helping the Looney Tunes and Michael Jordan team. Space Jam is a silly movie, so Murray just adds to the comedy of the movie. He provides great memorable quotes and really steals scenes all throughout Space Jam.
Stream it on HBO Max here (opens in new tab).
Lost In Translation (Peacock)
In 2003, Bill Murray took on a more serious role in Sofia Coppola's Lost in Translation. The film is based on Coppola's time in Tokyo. It follows Charlotte (Scarlett Johansson), a recent college graduate who travels to Japan with her husband, but she ends up mainly exploring Tokyo alone until she becomes friends with Bob Harris (Bill Murray), a former movie star.
Why It's A Good Option for Bill Murray Fans: Lost in Translation received a lot of critical praise and gained several Academy Award nominations, including a Best Actor nomination for Murray. The film also received attention for the ending that left viewers with a major question. Lost in Translation is one of Murray's best performances and offers a different look at the actor known for his big and bold characters. It's a more subdued, but just as compelling, performance.
Stream it on Peacock here (opens in new tab).
Stripes (Showtime)
Stripes is one of the many Ivan Reitman, Bill Murray, and Harold Ramis collaborations. It's a comedy about a man in his 30s who, after a series of unfortunate events, decides to join the Army and he drags his best friend along with him. Stripes is about these two men and their misfit platoon mates.
Why It's A Good Option for Bill Murray Fans: Stripes helped launch Bill Murray to leading man status. The film has Murray at his comedic best: funny, mischievous, rowdy, and memorable. It's one of the quintessential 80s comedies and Murray films. Stripes is one of Bill Murray's best performances.
Stream it on Showtime here.
A Very Murray Christmas (Netflix)
Bill Murray does a Christmas special in his own unique way in A Very Murray Christmas. This 2015 made for Netflix film follows a fictionalized version of Murray on Christmas Eve at the Carlyle Hotel. It includes many cameos from actors and musicians, such as George Clooney, Miley Cyrus, and Chris Rock. Amy Poehler, Rashida Jones, Jenny Lewis, and Jason Schwartzman also appear as various characters.
Why It's A Good Option for Bill Murray Fans: A Very Murray Christmas isn't the traditional Christmas movie, but it still gives you all the warm feelings and spirit of the holidays. It includes music numbers, commentary on love, and a Christmas-y message
Stream it on Netflix here (opens in new tab).
Mad Dog And Glory (Peacock)
Uma Thurman, Robert De Niro, and Bill Murray star in Mad Dog and Glory, a crime comedy about a Chicago Police cop, Wayne Dobie (Robert De Niro), who saves mob boss Frank Milo (Bill Murray). Milo gives him a week with Glory (Uma Thurman) as a present.
Why It's A Good Option for Bill Murray Fans: Bill Murray is not known for his tough-guy roles, and Robert De Niro is not known for softer roles, so this was clever casting in 1993 to put these respected actors in roles against their norms. De Niro, Uma Thurman, and Murray aren't a combo that viewers see often nor expect to see, so it's fun to see them all together in Mad Dog and Glory.
Stream it on Peacock here (opens in new tab).
Kingpin (Showtime)
Kingpin is a 1996 comedy from the Farrelly brothers, which stars Woody Harrelson, Randy Quaid, Vanessa Angel, and Bill Murray. Kingpin is a raunchy comedy about a once successful professional bowler who loses it all, but 17 years later, he tries to regain his past glory with a protege.
Why it's A Good Option for Bill Murray Fans: In the DVD commentary for Kingpin, the Farrelly brothers mentioned how Murray read their script and then improvised many of his lines. Bill Murray's character Big Ern is brass, vulgar, and a jerk, but he's such an entertaining character to root against. Woody Harrelson and Murray have great onscreen chemistry, so it's interesting watching him be the antagonist to Harrelson's protagonist in Kingpin.
Stream it on Showtime here.
Moonrise Kingdom (Peacock)
Moonrise Kingdom is one of Wes Anderson and Bill Murray's many collaborations. It's also just one of Anderson's best movies. Moonrise Kingdom tells the story of two young kids who run off together, while the adults try to locate them. The cast of the film includes some of Anderson's long-standing collaborators like Edward Norton, Frances McDormand, and Jason Schwartzman.
Why It's A Good option for Bill Murray Fans: Bill Murray's Walt Bishop isn't one of Anderson's best Murray characters, but he's an interesting guy, full of Anderson-isms. Moonrise Kingdom is a film about young love and how it can make us feel invincible. It's just an enjoyable movie that continues to showcase Murray's range of quirky Wes Anderson characters.
Stream it on Peacock here (opens in new tab).
Saturday Night Live Bill Murray Sketches (NBC.com)
NBC has over 80 sketches on-demand featuring Bill Murray from his time on Saturday Night Live as a regular cast member (1976-1980).
Why It's a Good Option for Bill Murray Fans: Saturday Night Live is really what kicked off Bill Murray's comedy career. These clips showcase Murray's talent and bring nostalgia to those who watched them when they originally aired. If they weren't alive or too young to remember them, these skits could also be an introduction to Murray's time on SNL.
Stream it on NBC here.
For those who just enjoy Murray's voice, he has a few voice-over features also available to stream, including Garfield The Movie on Starz, The Jungle Book on Disney+, and Osmosis Jones on HBO Max. Murray's next big feature films will be the new Ghostbusters movie, Ghostbusters Afterlife, and another collaboration with Wes Anderson, The French Dispatch.
Spent most of my life in various parts of Illinois, including attending college in Evanston. I have been a life long lover of pop culture, especially television, turned that passion into writing about all things entertainment related. When I'm not writing about pop culture, I can be found channeling Gordon Ramsay by kicking people out the kitchen.
Your Daily Blend of Entertainment News
Thank you for signing up to CinemaBlend. You will receive a verification email shortly.
There was a problem. Please refresh the page and try again.