Enter CinemaBlend's The Suicide Squad Death Pool For Your Chance To Win Tickets To An Advance Screening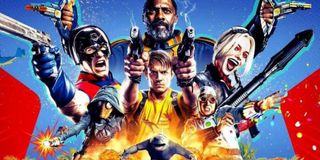 Enter for your chance to see James Gunn's The Suicide Squad in advance! St. Louis is getting its own screening, which will take place on Tuesday, August 3, at 7 p.m. at AMC Esquire. We're giving away 4 prize packs that include a ticket to the screening, along with a cell-phone fan, a beach ball, sunglasses, a hand fan, a mask, and a t-shirt! But if you don't live in St. Louis, never fear! We're also giving away 5 Fandango tickets (that each admit four people) that are redeemable anywhere Fandango is accepted in the United States. To enter for your chance to win, just enter our death pool below.
What Is The Suicide Squad Death Pool?
The idea of a "death pool," for those who might not be as familiar, is to guess whether or not different people will be alive at the end of an event. As The Suicide Squad has made it very clear that you shouldn't get too attached to its characters, we've decided to create a poll for you to guess who is going to die in the film! Simply select one character you think is going to die, and then fill out the form that will populate for your chance to see The Suicide Squad for free! And let's be clear: the winners will be randomly selected. We are NOT choosing the winners based on who is correct, in order to avoid spoilers.
You have until 12 p.m. CT on Thursday, July 29 to enter.
Official Rules: Just fill out the form above to enter. No purchase necessary. Must be a U.S. resident over 18 years of age to enter. The giveaway ends at 12:00 p.m. CT on July 29, 2021. The winners will be chosen at random and contacted by Allied Global Marketing for details of the screening. Participants can be disqualified for any reason. Failure to comply with the rules will result in disqualification and subsequent mockery. CinemaBlend cannot accept responsibility for any shipping issues. Good luck!
Your Daily Blend of Entertainment News