With Twilight On Netflix, Bryce Dallas Howard Shares A+ Story About Fighting Robert Pattinson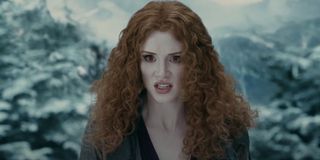 The following contains spoilers for The Twilight Saga**, although if you're under the age of 50, you've definitely seen them already.**
Whether you loved them or hated them, the Twilight movies were a major turning point in teen cinema. They ushered in a new era of paranormal content aimed at young adults, like the CW's hit series The Vampire Diaries and the MTV reboot of Teen Wolf. Now, over a decade since the first Twilight film hit theaters in 2008, Bella and Edward's love story is available to anyone with a Netflix subscription. In honor of Twilight's Netflix premiere, The Twilight Saga: Eclipse actress Bryce Dallas Howard has shared a hilarious story about filming the iconic series.
Bryce Dallas Howard, who played the villainous vampiress Victoria in The Twilight Saga: Eclipse, shared a fun tidbit about having to fight Robert Pattinson on Instagram. Check out her post below:
Remember those neon amber contacts? 2010 was a different time. Bryce Dallas Howard's post features her character Victoria (in that signature curly red wig) gripping Edward in a pretty sick headlock. As an apparent tribute, Bryce Dallas Howard's brother-in-law made her an R-Patz-themed notepad with the caption "live dangerously". An apt commemoration of Jurassic World: Dominion actress' epic fight scenes with Bella Swan's bloodsucking beau Edward Cullen, to be sure. It would be dangerous indeed to get between Edward Cullen and a vengeful Victoria, considering that the Cullens killed her lover James in the first Twilight film.
In case you need a refresher, Victoria was a vampire who, along with her comrades James and Laurent, were killing humans. This was a major no-no for the vegetarian Cullen family, who only drank animal blood. When the nomadic trio started murdering humans in the Cullens' hometown of Forks, Washington, the Cullens were forced to reckon with the evil bloodsuckers. The trio tried to kill Bella Swan, but the Cullens quickly rose to her defense. In the ensuing battle, James was killed - leaving Victoria to enact her revenge in New Moon and Eclipse.
While Under The Dome actress Rachelle Lefevre played Victoria in the original Twilight film as well as The Twilight Saga: New Moon, Bryce Dallas Howard took over in Eclipse. There was a bit of controversy surrounding the re-casting, but Rachelle Lefevre only left due to a scheduling conflict, so no real drama there.
Now that The Twilight Saga is streaming on Netflix, there's no better time to catch up with Bella, Edward, Jacob, and all of the other vampires, werewolves, and high schoolers of Forks. Fans of Bryce Dallas Howard can check out Jurassic World and Jurassic World: Fallen Kingdom in preparation for the release of Jurassic World: Dominion, slated for a summer 2022 release.
Actor, singer, and occasional dancer. Likes: fashion, books, old buildings. Dislikes: cilantro, the NJ Turnpike, sneaker wedges.
Your Daily Blend of Entertainment News
Thank you for signing up to CinemaBlend. You will receive a verification email shortly.
There was a problem. Please refresh the page and try again.