Fast And Furious Fans Have Added Vin Diesel To Various Movies, And The Viral Memes Are A+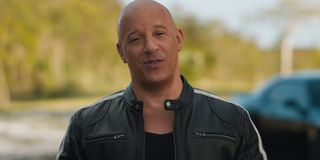 We know the Fast & Furious movies are known for their impressive cars and over-the-top thrills, yet the long-running film franchise is also known for a key theme: family. Yes, Vin Diesel's Dominic Toretto is quite proud of his brood, those who are related to him and those who aren't. Fans are more than aware of how much the concept of "family" pops up in the franchise, and they're channeling those thoughts in a hilarious way. Fans are taking Diesel's Toretto and placing him into various films, with the result being a number of A+ memes.
With F9 currently playing in theaters, it's the perfect time for some Dominic Toretto memes. It's honestly amazing just how much thought fans are putting into these images as well as the vast number of franchises they're placing Dom in. For instance, one Twitter user placed the Toretto patriarch in the final battle of Avengers: Endgame:
Thanos would probably win that fight, but I'd be lying if I said I didn't want to see what would happen if Dominic Toretto tried to take on the Mad Titan. I mean… at this point, Vin Diesel's iconic character is pretty much a superhero himself. So it's no surprise that another user has already imagined how things would've played out if Dom had been present during Batman v. Superman: Dawn of Justice's infamous "Martha" scene:
It's funny to think about what it would be like to actually have Dom pop up in such an emotionally charged moment. But that's honestly not the most unexpected place he could show up. Having him greet Harry Potter in the afterlife during the events of Deathly Hallows Part 2, as another fan imagined, would've been even weirder:
Dominic Toretto is a man of fewer words than Albus Dumbledore, but he's not completely wrong in his assumption, I suppose. Other famous film characters have family and close bonds, including the Fellowship of the Ring from the Lord of the Rings franchise. So with those shared values, it's no surprise that Vin Diesel's protagonist found his way to Middle-Earth in a separate meme:
The power of Dominic Toretto seemingly knows no bounds, even when it comes to kaiju. That's right, someone even imagined the character lending Godzilla a hand against Mechagodzilla:
While all of these would make for some pretty crazy crossovers, there's one particular franchise that's been linked to Fast & Furious as of late, and it's Jurassic World. Both series are housed at Universal, and the stars have been commenting on the possibilities. Now, one fan has given us a small taste of what a mash-up might look like:
The chances of any of these collaborations actually happening are slim to none. But it's still incredibly entertaining to see folks across the internet flex their creativity. Ironically, this whole craze is sort of bringing fans together… like a family.
Covering superheroes, sci-fi, comedy, and almost anything else in film and TV. I eat more pizza than the Teenage Mutant Ninja Turtles.
Your Daily Blend of Entertainment News
Thank you for signing up to CinemaBlend. You will receive a verification email shortly.
There was a problem. Please refresh the page and try again.