The Original Ratcatcher: What To Know About Taika Waititi's The Suicide Squad Character From The Comics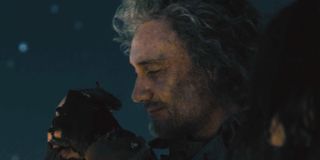 For months after Taika Waititi's name was added to The Suicide Squad cast list without a specific character attached, many suspected the Academy Award-winning filmmaker and actor was the voice of King Shark before it was revealed to be Sylvester Stallone.
It was not until writer and director James Gunn's DC movies debut was released in theaters (and on HBO Max) in August 2020 when we discovered that the New Zealander was playing the father of Daniela Melchior's Ratcatcher 2 in one of the film's most heartwarming (and heartbreaking) surprise cameos. However, this version of Ratcatcher is much different from the original Ratcatcher from the comics, whose origin story we will help fill you in on with these following captivating facts.
Ratcatcher Was First Introduced In DC Comics As A Batman Villain
Created by writer Alan Grant, his frequent collaborator John Wagner, and late illustrator Norm Breyfogle, Ratcatcher made his DC Comics debut in a two-part story featured in Detective Comics, released in April and May of 1988. It sees the sewer-dweller taking on the Batman, who is lured into the hunt for the criminal when he hears the screams of one of four men being held captive by him underneath the streets of Gotham City.
The Dark Knight himself just barely escapes capture by Ratcatcher and his furry minions when he becomes trapped in the sewer with only a torch and a bucket of gasoline at his disposal. Batman actually uses the equipment to vanquish the rats as they try to attack him, before successfully defeating Ratcatcher and bringing him and his two surviving prisoners back to the surface, where they are being expected by the GCPD. Speaking of which, while Batman was stuck in the sewers, Commissioner James Gordon was able to uncover the villain's true identity.
Ratcatcher Was A Gotham City Exterminator Before He Became A Criminal
Before "The Ratcatcher" became a supervillain alias, it was also the job title for Otis Flannegan - a former employee of the Gotham City Sanitation Department who claimed to have developed a particularly close bond with the small, furry creatures he was initially hired to get rid of. His road to rodent royalty was cut short, however, when he wound up serving 10 years in Gotham City Penitentiary for stabbing a man to death in an unfortunate street brawl.
Flannegan immediately sought revenge against those who put him in jail in the two-part Batman comic we described above, which was only the first of numerous times he has crossed paths with the Caped Crusader. In 2013, a later incarnation of Ratcatcher was introduced as a foe of Batwing - who is the alter ego of Lucas "Luke" Fox (son of Morgan Freeman's The Dark Knight trilogy character, Lucius Fox) - and, unsurprisingly, under some positively ratty circumstances.
Ratcatcher Can Control Rats To Carry Out His Evil Demands
The claims that Otis Flannegan had about his close bond with rats, which he believed was strong enough that he could have been their king, would prove to be nothing to scoff at, especially after he was released from prison. Protective clothing he received from his extermination career, top-notch animal training skills, and a heart full of vengeance made the ex-con a forced to be reckoned with.
Ratcatcher managed to put together an army of sewer-dwelling rats, which he was able to command into doing whatever dastardly tasks he asked for. During his second prison sentence, he upgraded his rat control method when he carved himself a special high-pitched, whistle, which he used to attract a new army that successfully helped him escape.
Ratcatcher Has Been Adapted For A Few DC Animated Series
Taika Waititi's brief appearances as Ratcatcher near The Suicide Squad ending, and during an earlier flashback, mark the live-action debut of the comic book villain. However, this is not the first time that the character has been adapted for the screen.
Ratcatcher served as the inspiration for an episode of the futuristic animated series Batman Beyond that featured a teenager named Patrick Fitz, whose animalistic appearance and empathetic link with (rather massive) rodents earned him the unfortunate nickname Ratboy. However, the original character of Otis Flannegan (voiced by comedian James Adomian) would make his official debut (and only screen appearance so far) on Harley Quinn Season 2 as a henchperson for the very well-known villain, Two-Face.
Ratcatcher 2 Was Created Specifically For The Suicide Squad
Now, I say that HBO Max's Harley Quinn series marks the sole screen appearance so far of Otis Flannegan, despite the inclusion of Ratcatcher in The Suicide Squad, because Taika Waititi is playing an entirely different version of this wild character. While this version's true name is never revealed (meaning that it could still have been Otis that he played, in theory) and his bond to the eponymous rodents was clear, he originally resided in Portugal, was less concerned with vengeance than satisfying his drug addiction, and was a loving father to his daughter, Clea Cazo.
Indeed, there had never been a female iteration of the the DC supervillain before Daniela Melchior was cast as Ratcatcher in The Suicide Squad. Not to mention, there had never been a version of the character so sympathetic before she was created for the film. It really shows off the talents of the Portuguese actress, and writer and director James Gunn's knack for bringing out the brighter side of the darkest personalities in comics.
I wonder how Ratcatcher creators Alan Grant and John Wagner feel about having one of their most underrated comic book characters becoming the inspiration for what has quickly become one of the most beloved members of The Suicide Squad's main ensemble. In fact, Daniela Melchior's hearty performance as Ratcatcher 2 already has audiences pining for a DC Extended Universe spin-off movie that would put her (and hopefully her furry friend, Sebastian) in the spotlight. Make it a team-up picture starring her and Idris Elba as Bloodsport (and with James Gunn overseeing the project again) and I am so in.
Your Daily Blend of Entertainment News
Jason has been writing since he was able to pick up a washable marker, with which he wrote his debut illustrated children's story, later transitioning to a short-lived comic book series and (very) amateur filmmaking before finally settling on pursuing a career in writing about movies in lieu of making them. Look for his name in just about any article related to Batman.