Val-Zod: 6 Things To Know About The Lead Character Of HBO Max's Upcoming Superman Series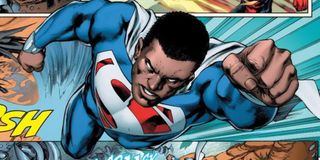 CinemaBlend participates in affiliate programs with various companies. We may earn a commission when you click on or make purchases via links.
A few years ago, fans of the DC movies suspected that Henry Cavill would be stepping down from the role of Superman and that none other than Michael B. Jordan, an alum of two different universes worth of Marvel movies, was being considered as his replacement. Of course, that turned out to be another internet rumor, but it just so happens that the Black Panther star and his production company, Outlier Society, are developing a series for HBO Max that will focus on another Kryptonian, named Val-Zod.
If this is the first time you are hearing about this notable figure of Black comic book heroes, allow us to help prepare you for one of the most interesting upcoming DC TV shows with the most essential facts about the character, starting with where he falls in DC canon.
Val-Zod Is The Superman Of Earth 2
Created by Australian comic book writer Tom Taylor, artist and fellow Aussie Nicola Scott, and late illustrator Robson Rocha (who lost his life to Covid-19 at the age of 41 on July 12, 2021), Val-Zod made his DC Comics debut in Issue #19 of Earth 2 in March 2014. Earth 2 is indeed the dimension within the DC Multiverse where the character comes from and reigns as the Superman of that particular continuity, especially after the death of its own iteration of Kal-El (Clark Kent's birth name), following Steppenwolf's devastating invasion. Val-Zod would prove to be a worthy successor to that dimension's original Man of Steel and for more reasons than having a basically identical arsenal of abilities. They do come in handy when fighting evil, though.
Val-Zod Has All The Same Kryptonian Abilities As Clark Kent
Similar to Clark Kent, Val-Zod also comes from Krypton, where, as a child, he became the House of Zod's sole member when the Kryptonian Court had his family condemned and then became one of the last of his species after narrowly escaping the planet before it was ultimately destroyed.
Another similarity between Val-Zod and Clark Kent is that, if you name any one of the Prime Earth iterations of Superman's powers (including flight, heat vision or hurricane breath) or weaknesses (including Kryptonite and magic), all of that also applies to the physiology of Val-Zod, who also happens to possess a genius-level intellect after years of intense studies on Krypton. There was a time, however, when this very important superhero had absolutely no interest in using his powers.
Val-Zod Was A Reclusive Pacifist When He First Came To Earth
Val-Zod escaped a most certain death on a doomed Krypton (with help from his adoptive parents, Jor-El and Lara, who are also the biological parents of Kal-El) by taking an escape pod that included educational recordings made by his parents in the hope of instilling a non-violent philosophy in him.
When he landed on Earth, the young Kryptonian was discovered by the Earth 2 iteration of Terry Sloan (nothing like his New Earth counterpart, the aptly named Justice Society of America member Mister Terrific), who deceptively promised the helpless young man his "protection" by locking him away in an asylum, which would turn him into an agoraphobic recluse. While these do not, at all, sound like characteristics of a superhero, Val-Zod's tune would soon change when we needed a person of his abilities.
Val-Zod Was Recruited To Fight An Evil Superman Clone
Earth 2 also has its own iteration of the Justice League called the Wonders of the World, which has consisted of such heroes as Thomas Wayne's Batman (and an alternate version of Bruce Wayne at one point, too), an openly gay Green Lantern named Alan Scott, and an android implanted with a deceased Lois Lane's consciousness who fights as the Red Tornado (another former JSA Member).
The team had been looking for help defeating someone whom they believed was a brainwashed Clark Kent (but was really a clone made by Darkseid named Brutaal), when they found Val-Zod, whose agoraphobia and pacifist beliefs initially made him reluctant to join the fight. However, after much encouragement and training from the Wonders, Val-Zod accepted his destiny as Superman, defeated Brutaal, and reclaimed the world from the clutches of Apokolips.
Val-Zod Is A Frequent Collaborator And Friend Of Power Girl
Despite, technically, having a Kryptonian being as an arch nemesis in the form of the evil, Apokolips-born clone Brutaal, Val-Zod does play nice with the few other remaining Kryptonians on Earth 2. Another young escapee from that fateful day on Krypton is Kara Zor-El (originally known as the Supergirl of the Earth 2 continuity before inventing the name Power Girl when she became an adult), who actually befriended Val-Zod when they were young and (since Jor-El and Lara are her uncle and aunt) is technically his cousin. The superheroes are still friendly today, and often fight alongside each other as members of the Wonders of the World.
Val-Zod Is Not The First Black Superman
It is quite possible that the announcement of Michael B. Jordan's HBO Max original Superman series marked the first time that some people had ever heard of the character of Val-Zod or even, for that matter, a version of Superman who is also Black.
Well, in reality, Val-Zod is only the most recent of a few different POC superheroes who have also worn the old red and blues, such as Sunshine Superman (whom Grant Morrison actually named after the 1966 song by Donovan) and the Superman of Earth-D, a leading member of the Justice Alliance of America who made a couple of appearance in 1999. The one other most notable iteration, outside of Val-Zod, is Kalel (a.k.a. Calvin Ellis of Earth-23) - another creation by Morrison based on both Muhammad Ali and Barack Obama, as reflected by his boxing skills and successful campaign for President of the United States.
Whether or not there is chance that Val-Zod could cross paths with Calvin Ellis on Michael B. Jordan's show, which will likely not appear on the 2021 fall TV schedule, I cannot wait to see this Superman's story unfold.
Jason has been writing since he was able to pick up a washable marker, with which he wrote his debut illustrated children's story, later transitioning to a short-lived comic book series and (very) amateur filmmaking before finally settling on pursuing a career in writing about movies in lieu of making them. Look for his name in just about any article related to Batman.
Your Daily Blend of Entertainment News
Thank you for signing up to CinemaBlend. You will receive a verification email shortly.
There was a problem. Please refresh the page and try again.