Don't Breathe 2: What Fans Are Saying About The Horror Sequel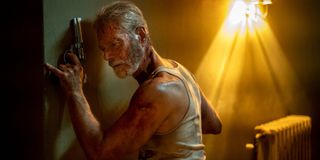 (Image credit: (Sony))
Another horror movie already? Heck yeah! It's actually been a solid summer for fans of scares and frights, and don't worry, they'll keep coming as we transition into spooky season in the coming months. After some other recent releases from the genre, like Old and The Forever Purge, there's another exciting summer movie in Don't Breathe 2. It follows Fede Alvarez's 2016 horror movie that became a surprise favorite at the time. So what do fans think about the sequel?
On the critical front, Don't Breathe 2 didn't quite stack up to its predecessor, with many reviews sharing their dislike for the direction it took Stephen Lang's Norman Nordstrom. CinemaBlend's own Eric Eisenberg gave it a 1.5 out of 5 rating in his review (yikes!), calling it one of the "most misguided sequels in recent memory." But not all fans shared their sentiments walking out of last weekend's theatrical release. Let's get into their reactions:
Don't Breathe 2 Is Getting Good Hype From A Lot Of People
First off, a lot of people were really into the sequel on social media, taking to Twitter to share their love for the film. One user called it "non-stop awesome" with this tweet:
The movie follows the blind man from the 2016 original, Stephen Lang's Norman Nordstrom, eight years following the events of the first movie. He lives in peace with his adopted daughter Phoenix (Madelyn Grace) and Rottweiler in Detroit. However, his past catches up to him when some bad guys find him and kidnap Phoenix. It's a premise that really worked for a lot of people:
Another fan remarked that Don't Breathe 2 could pick up new fans since they felt you could enjoy it without having seen the original:
Don't Breathe 2 pleased a lot of fans considering so many of them were going out of their way to recommend it to other people on social media. The movie blends elements of horror with an action thriller.
The movie opened at No. 2 last weekend behind 20th Century Studios' Free Guy starring Ryan Reynolds. It nabbed $10.6 million against a reported $15 million production budget.
How Fans Think It Measures Up To The First Don't Breathe Film
A big question that comes up when a movie like this gets a sequel is how it compares to the movie before it. On social media, a lot of people got into conversations about how Don't Breathe 2 worked next to the 2016 movie, and there's a lot of different opinions on the subject. To start, this person felt it lived up to the original very well:
One fan felt it was even better than the first film, and she wasn't the only one. As we know, especially when it comes to horror movies, being into a sequel doesn't always happen, but for many, the content surpassed their expectations from the 2016 film:
Unlike the first film being helmed by Fede Alvarez, Rodo Sayagues took the helm here for Don't Breathe 2. He co-wrote and co-produced the first movie with Alvarez, and the sequel marked his first directing gig as Alvarez stepped aside from the camera. The collaborators are working together next on the upcoming Texas Chainsaw Massacre movie, which is expected later this year.
Even with all the praise we're seeing here, there's apparently some "hate" too, though it didn't overshadow these mostly positive words on social media. Keep in mind, Don't Breathe 2 received a B from moviegoers on CinemaScore, which is close to 2016's Don't Breathe, which got a B+. Here's another comparison to the original:
Now this one didn't like it as much as the original. As you can see, there's a lot of differing opinions about Don't Breathe 2 but there definitely seems to be more positive than negative. That being said, let's dive into some of the criticism from fans.
Some Fans Thought Don't Breathe 2 Was Super Brutal And Messed Up
So here's the thing: Don't Breathe 2 does a bit of a 180 because it changes the perspective on the story. In the first film, Norman Nordstrom is the villain and in Don't Breathe 2, he becomes somewhat of an antihero. It bothered a lot of people that the filmmakers decided to make the blind man someone to root for, because it's confusing and kind of messed up. As one person shared:
Yeah… as the user shared he "aggressively hated" Don't Breathe 2 for its decision to make Norman more a sympathetic character despite him being so unlikable in the first movie. According to producer Fede Alvarez, this was done to "fuck with people" and show that things are "not black and white." That may be so, but it didn't stop fans from calling out the movie:
Hey, it's true that many horror characters are not necessarily the types of people we'd want to spend our time with, but to some people, it crossed an unnecessary line. And in other news, it was even one child's first theatrical experience, which might be even more messed up than the movie itself, as one person tweeted:
The first one is more of a classic horror movie as three friends break into the blind man's home and wind up facing their wrath. Don't Breathe 2 follows said blind man as he must save his daughter from even worse people than himself, which is confusing. This Twitter user summed it up well:
Whether that's a good thing or reason to skip it is up to the viewer! Now it's your turn. What did you think about Don't Breathe 2? You can vote in our poll to share your thoughts on Don't Breathe 2, and follow along here on CinemaBlend for more upcoming horror releases this year and next year. Stay tuned in the coming months for reactions to movies like Candyman, Malignant and Halloween Kills.
This poll is no longer available.
Your Daily Blend of Entertainment News
YA genre tribute. Horror May Queen. Word webslinger. All her writing should be read in Sarah Connor's Terminator 2 voice over.