Samaritan: 7 Quick Things We Know About Sylvester Stallone's Superhero Movie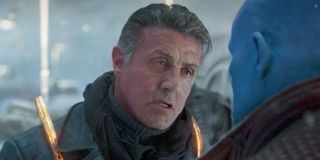 In recent years, Sylvester Stallone has been a part of the Marvel Cinematic Universe with his appearance in Guardians of the Galaxy Vol. 2, and the DC Extended Universe with his turn as King Shark in The Suicide Squad. In the near future, the actor (who has had a number one film in six straight decades will star in another superhero movie, but this one sounds a lot different and more stripped down than anything else he's done in the genre thus far. And, even though there is some time before we will get to see Samaritan, which can be described as a gritty drama about a superhero being pulled out of a decades-long exile, there's actually quite a lot that we know ahead of its release.
Samaritan's Release Date Is Set For August 26, 2022
Samaritan is set to be released August 26, 2022, though United Artists Releasing has not yet disclosed if the superhero film will have a traditional theatrical rollout, be streaming only, or use some kind of hybrid. The movie was previously scheduled to come out on November 20, 2020, December 11, 2020, and later June 4, 2021, but all three of those previous dates were pushed back due to production delays brought on by the ongoing pandemic and its impact on movie theaters around the world.
The Samaritan Cast Includes Sylvester Stallone, Javon Walton And Martin Starr
When Samaritan opens on August 26, 2022, audiences will be introduced to Sylvester Stallone's Stanley Kominski, a superhero who seemingly vanished 20 years prior to the start of the movie, following a tragic event. Appearing opposite Stallone will be Javon "Wanna" Walton, a young boxing prodigy and Euphoria star who will be taking on the role of Sam Cleary, the superhero-obsessed youth who has a chance encounter with the man he believes to be the retired hero. Other members of the Samaritan cast include Martin Starr (Spider-Man: Far From Home), Moisés Arias (Hannah Montana), Dascha Polanco (Orange is the New Black), Pilou Asbæk (Game of Thrones), to name only a few.
Samaritan Will Follow A Young Boy Trying To Find A Superhero Who Disappeared 20 Years Earlier
Samaritan will largely follow Sam Cleary, a young boy who has a suspicion that a once popular and powerful superhero who many believe has been missing for 20 years, has actually been under everyone's noses the entire time. While most of society thinks Stanley Kominski is nothing more than a ghost of the past and is long gone, the wide-eyed and eager Sam isn't willing to give up hope for the hero's return just yet, especially after running into a man who looks just like his city's former savior. We will just have to wait and see how the bearded and bloody hero of yesteryear gets back into the crime-fighting and world-saving business in summer 2022.
Samaritan Was Helmed By Overlord Director Julius Avery
Julius Avery sat behind in the director's chair for Samaritan, per Collider, and if the Australian filmmaker's previous work is any indication, we're in for a bloody good time. Prior to directing the Sylvester Stallone-led superhero drama, Avery was responsible for Overlord, the 2018 action horror film about a group of American soldiers who discover unthinkable Nazi experiments upon being dropped behind enemy lines hours before the D-Day invasion in June 1944.
Before tackling Nazi zombies, Julius Avery wrote and directed the 2014 crime thriller Son of a Gun, starring Ewan McGregor and Alicia Vikander, that involved a daring escape and plenty of hard-hitting action set in an Australian prison. Avery was also attached to write and direct the Flash Gordon reboot at one point, but that project's fate became unclear with Disney's acquisition of 20th Century Fox. The reboot is now being developed by Taika Waititi.
Sylvester Stallone Is Producing Samaritan
Sylvester Stallone is not only starring in Samaritan, he is also producing it through Balboa Productions, a production company he launched in May 2018 to develop a movie about boxing legend Jack Johnson, per Variety. So far, the company has produced the action flick Rambo: Last Blood and a documentary titled One Night: Joshua vs. Ruiz, both of which were released in 2019. Future projects being developed by Balboa Productions include an adaptation of the 1999 sci-fi action novel Hunter and an English-language remake of the South Korean action thriller The Gangster, The Cop, The Devil, though both are in the early stages of development.
Production On Samaritan Wrapped In November 2020, Nine Months Months After It First Began
Production on Samaritan began back in February 2020, as Sylvester Stallone confirmed in an Instagram post alongside his daughter, Sistine Stallone. A few weeks later, however, the cameras stopped rolling when the Atlanta-based shoot was put on what was to be a two-week hiatus, per Deadline. Those two weeks became more than six months before production resumed in October 2020, which Stallone pointed out in several updates from the set. The shoot would eventually wrap in November 2020, nine months after it first kicked off in a much different world. Then, the waiting game with post-production could officially begin.
Bone-Crunching And Badass Samaritan Footage Was Shown Off At CinemaCon 2021
A trailer for Samaritan (or any official images) has yet to be shown to the public, but CinemaBlend's Sean O'Connell and other members of the press got to see a trailer at CinemaCon in August 2021, where the host of the ReelBlend podcast described the footage as "bone-crunching" and "badass."
This montage of footage showcased Sylvester Stallone's Stanley Kominski as the retired superhero saving a young boy (Javon "Wanna" Walton's Sam Cleary) from a group of bullies as well as classic hero shots of a younger Samaritan in his heyday (including a view of his suit). The carnage featured in the action sequences was comparable to something you would see in a John Wick movie, which sounds pretty badass.
After reading all of this, it's easy to see why Samaritan is not just one of the upcoming superhero films audiences are excited to see but also one of the most anticipated 2022 movies. But, before we get there, we still have plenty of exciting 2021 new movie releases to bring us back to theaters.
Philip grew up in Louisiana (not New Orleans) before moving to St. Louis after graduating from Louisiana State University-Shreveport. When he's not writing about movies or television, Philip can be found being chased by his three kids, telling his dogs to stop yelling at the mailman, or yelling about professional wrestling to his wife. If the stars properly align, he will talk about For Love Of The Game being the best baseball movie of all time.
Your Daily Blend of Entertainment News
Thank you for signing up to CinemaBlend. You will receive a verification email shortly.
There was a problem. Please refresh the page and try again.