F9's Blu-ray Is Going To Include A Director's Cut, And Vin Diesel Shared Some Cool Footage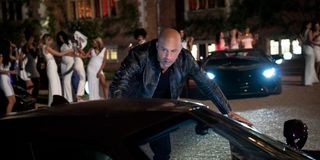 F9 turned out to be one of the most successful movies of an unusual year for box office numbers. The movie is racing towards the $700 million mark and is the second highest-earning movie of the year. While it may not have reached the financial heights of some of its more recent predecessors, fans loved the latest chapter of the Fast Saga, and the introduction of John Cena's Jacob Torreto has many excited for the future. Now, there's even more to be hyped for, as the film's Blu-ray release will include a director's cut -- and Vin Diesel has shared some cool new footage to celebrate the news.
Blu-ray releases usually come with plenty of extras for fans to pour over, but a director's cut really makes F9 a must-own movie. Vin Diesel took to Instagram to announce its upcoming release, and the video he included is sure to be exciting for Fast fans. Check it out down below:
Vin Diesel seems more than excited for the release, and you can't really blame him. While the footage is cool, what's really nice is that Diesel gives a major shout-out to director Justin Lin, who returned for F9 after having been absent from the franchise for a few years. Needless to say, Lin truly delivered a massive spectacle with this movie.
Anyone who has seen F9 knows that the movie is jam-packed with Fast & Furious goodness as is. But the fact that Vin Diesel is promising that the Blu-ray has more Fast DNA is just too exciting. This release and the video are just a testament to the commitment that Diesel, who has been playing Dominic Toretto for 20 years, has to this fan-favorite franchise. And the movie certainly gave many fans what they wanted.
F9 brought back fan-favorite character Han, played by Sung Kang, correcting the mistake of killing him off and delivering something fans asking about for years now. The movie is also arguably the most action-packed entry yet, as it featured creative new stunt sequences. It even marked the first time the Fast Family has gone to space.
In terms of the future, we finally know when to expect Fast and Furious 10 and 11 to hit theaters, though plot details are under wraps. Jordana Brewster has some ideas on what she would like to see in the final two movies of the main Fast saga. There's a lot to consider following the conclusion of F9, but Vin Diesel, Justin Lin and their team should be able to steer this franchise to a smooth conclusion. But of course, before all of that we can look forward to picking up F9 on 4K UHD and Blu-ray on September 21.
Movie and TV obsessive. A good Heist movie is the way to my heart. Enjoyer of everything from Marvel Movies to Rom-coms.
Your Daily Blend of Entertainment News
Thank you for signing up to CinemaBlend. You will receive a verification email shortly.
There was a problem. Please refresh the page and try again.