Elizabeth Banks Talks 'Cocaine Bear,' 'Jurassic Park' Influences & More
Elizabeth Banks joins ReelBlend!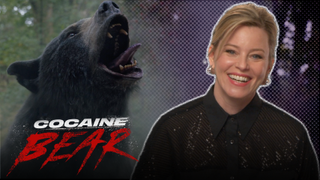 (Image credit: Universal Pictures)
Elizabeth Banks joins us to talk about directing her latest feature Cocaine Bear, starring Keri Russell, Alden Ehrenreich, and Ray Liotta. She dives into the process of finding a bear performer, working with the late Ray Liotta and what he brought to the set, influences from classics like Jurassic Park, and more.

Stick around through the show for our full review of the film as well as a discussion on the recently announced nominees of this year's Critics' Choice Super Awards.
Timestamps (approx. only)
00:00:00 - intro
00:05:47 - Celebrating 250 Episodes
00:13:51 - Elizabeth Banks Interview
00:35:20 - Critics' Choice Super Awards Nominations
00:51:29 - We Have A Ghost Review
00:55:23 - Cocaine Bear Review
01:09:47 - Our Favorite Elizabeth Banks Movies
01:20:19 - Outro
Want More ReelBlend?
Sign up for our premium membership, which includes an extra episode a week, a bi-weekly newsletter from Sean, and ad-free episodes. Also, be sure to subscribe to ReelBlend on YouTube for full episodes of the show in video form. Finally, we have all kinds of fun merchandise for dedicated Blenders to flaunt their fandom with pride.
Your Daily Blend of Entertainment News
Video Producer & Podcast Lead
Gabe studied Film & Photography at Webster University. He currently spends his free time looking like a fool trying to play Ice Hockey (a recently acquired hobby), playing video games, and watching every movie starring Dwayne "The Rock" Johnson. Dwayne, if you're reading this...he sends his love.