Guy Gets Fired For Watching Porn At Work, Sues And Wins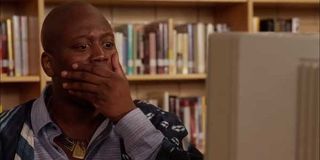 (Image credit: Unbreakable Kimmy Schmidt)
A former manager at an insurance firm in Sydney is surprisingly having the last laugh on his employer, even though he was fired from the job for watching porn at work. The man turned right around and sued the company after he was fired, and actually won the suit on the argument that he watched the porn on his lunch break and not technically during work hours. That must have been a pretty uncomfortable break room...
Apparently, the employee in question had already received his fair share of warnings due to poor performance on the job before he was fired in January, but it was when a store of "hardcore" pornography was found downloaded on his work-issued laptop that his boss finally gave him the boot, the Sydney Morning Herald reports. The laptop also contained a self-filmed sex tape of the man and photos of himself performing sex acts. Rather than walk out embarrassed and never bring the awkward incident up ever again, the man actually filed a lawsuit alleging wrongful termination.
And crazily enough, the trial actually ruled in the porn-loving manager's favor! The man argued that he had only downloaded the pornography while off the clock on his lunch break, or after work and out of the office. Though the commissioner at the hearing pointed out that this was clearly not a work-related use for the computer, he was forced to rule in the man's favor given that Smarter Insurance Brokers had never actually clarified that the laptop could not be used for any specific personal affairs.
The case ended with the company having to pay the man $10,000, which equates to about eight weeks of missed wages. Though, the man is still fired from the position, and any future employers who find out about this case are probably going to be realllly reluctant to bring him on board, or at least to give him a computer.
As it turns out, there are a lot of workers who just can't seem to keep it in their pants during office hours. Last year, London judge Warren Grant was fired for using court-provided computers to watch porn, and like the insurance manager, he decided to fight back. Grant sued, alleging disability discrimination, pointing out that he was acting out as the result of a mental illness triggered by problems within his marriage, reports legal blog Legal Cheek. Apparently, Grant should have tried the Sydney man's lunch break argument instead of the mental illness one, because he wound up losing his lawsuit.
Your Daily Blend of Entertainment News