Watch Kate Hudson Sing On Stage With John Mayer And Seal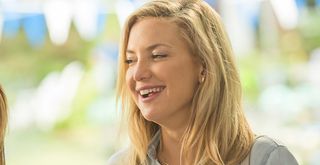 It's an often forgotten Hollywood fact that Kate Hudson can sing. Like, really sing! The actress reminded us all of that over the weekend when she took to the stage with famous singers like John Mayer, Seal, and Eric Benét and totally held her own. Check out her smooth, bluesy vocals below!
The function that brought all of these celebs together on Friday night was the birthday of Grammy-winning producer David Foster. Kate Hudson was front and center as close friend of Foster's daughters Erin and Sara Foster (the latter of whom uploaded the snippet of singing), stars of the pseudo-reality show Barely Famous.
Though Kate Hudson is definitely best known for her acting, she's shown off her vocal chops quite a few times before now. Some of Hudson's singing talents popped up in her acting roles, such as her recurring stint on the musical comedy Glee, a performance in the film adaptation of the musical Nine, and of course joining in to sing some Elton John with a busload of groupies at the start of her career in Almost Famous.
In May, Kate Hudson delivered a powerhouse performance at her mother Goldie Hawn's charity gala, covering Prince's ballad "Nothing Compares 2 U."
And even more recently still, just over a month ago Kate Hudson gave an impromptu performance during a commercial break of The Tonight Show with Jimmy Fallon. While speaking with Fallon and the Roots, Hudson launched into a pitch perfect cover of the En Vogue song "Hold On," full of soulful riffs. After the performance, Fallon went on to ask if she had ever considered recording an album, to which she responded that it is something she'd like to do but she tends to be drawn to more depressing music, which may be a shock to some of her fans, Entertainment Tonight reports.
Depressing or not --- I'd love to hear more of the vocal stylings of Kate Hudson. Maybe a duet with the other famous singer named Kate (or Katy, technically?)
Your Daily Blend of Entertainment News
Thank you for signing up to CinemaBlend. You will receive a verification email shortly.
There was a problem. Please refresh the page and try again.