Here's Paris Jackson Giving Macaulay Culkin A Pedicure, Because Sure, Why Not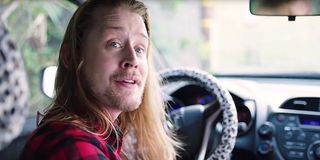 How do you spend some quality time with your godfather? Well, if you are Paris Jackson, then it's with a glee-filled toenail pedicure. The teenager spent some time adding some color to the already colorful life of her godfather Macaulay Culkin over the weekend by painting his toenails. Check out the surprisingly adorable shots below.
Paris Jackson shared a couple of pictures of herself painting Macauley Culkin's toenails on Sunday, grinning at the camera as Culkin laughs from his chair. Alongside the photos, she joked that she only paints hipster toenails, not those of models.
Macaulay Culkin was a very close friend of Paris Jackson's late father Michael Jackson from his childhood. He met Michael as a preteen around the time of his iconic film Home Alone and remained close with the pop singer until Jackson's death in 2009. The two grew so close that Jackson even named Culkin the godfather to his secondborn child Paris Jackson when she was born in 1998 --- Culkin was 17 years old at the time.
After Michael Jackson's death of involuntary propofol intoxication in 2009, Macaulay Culkin remained close with the late singer's three children. As evidenced by the pedicure session, Culkin is still spending quality time with the Jackson kids to this day. And it's not just this one isolated, infrequent instance, either. Paris Jackson shared another photo of herself and Culkin two months ago posing in a restaurant with a crayon drawing that Culkin apparently drew of his goddaughter.
The common thread here appears to be art, which is a topic that both Macaulay Culkin and Paris Jackson have spoken about passionately in recent years. Since his days as the go-to child star in blockbuster films like Home Alone and My Girl, Culkin has veered to more indie and art-oriented projects, including an experimental film shot only on iPhone and a comedy rock band devoted to pizza. Jackson has made art a more tangible part of her body by getting a number of tattoos, eight of which are dedications to her late father. Earlier this year, Jackson shared a photo of her arm tattoos with a long caption defending them as meaningful art from any detractors.
They may not be chart-topping pop singers like the man that brought them together, but it's clear that Macaulay Culkin and Paris Jackson are keeping MJ's artistic spirit alive in their lasting friendship.
Your Daily Blend of Entertainment News
Thank you for signing up to CinemaBlend. You will receive a verification email shortly.
There was a problem. Please refresh the page and try again.