How Kim Kardashian Is Trying To Lose 7 Pounds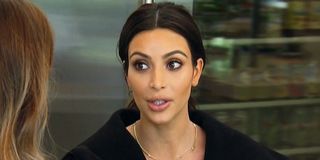 Kim Kardashian is taking a fashion tip from a great rapper in order to shave off a few extra pounds, and no, it's not Kanye West. The reality star gave fans a look inside her rigorous exercise regimen on her quest to lose seven pounds on her SnapChat account, and that involves wearing a big garbage bag while she hits the gym.
On Tuesday, Kim Kardashian uploaded a short video of herself wearing a sweat suit fashioned from trash bags, pointing out that she is trying to lose seven pounds and that her trainer Don Brooks is comparing her workout look to Missy Elliott.
Of course, the Missy Elliott joke is in reference to the rap superstar's iconic look in her first music video ever: "The Rain (Supa Dupa Fly)" back in 1997. In that video, Elliott made a name for herself not only as an innovative rapper, but also as an other-worldly visual artist, as she danced around in a billowing trash bag in front of a fish-eye lens. But now, 20 years later, it's Kim Kardashian who's moving around in the trash bag.
Wearing these trash bag sweat suits (also called sauna suits) has actually become quite the gym trend in the past few years --- I remember Bradley Cooper's character in Silver Linings Playbook rocking a similar look while running. Though the method has proved effective in losing weight quickly, many health organizations, such as Livestrong, point out that the weight loss is only due to loss in the body's water rather than actual loss in fat, so it will be regained once the person rehydrates.
Maybe Kim Kardashian could consider getting some expert advise from her sister Khloe Kardashian, who has just recently launched her own weight-loss reality series Revenge Body. Galvanized by public critiques of her weight for years, Khloe dedicated herself to an actively fit lifestyle a few years back and shed 40 pounds. Now, she's sharing her fitness secrets with everyday people who are looking to reinvent themselves.
As for Kim Kardashian, maybe she's just thinking about her body again because she only recently reemerged as a public figure. The reality star took a three-month-long break from public appearances and social media after being robbed at gunpoint in Paris in October. Kardashian finally returned to her usual, highly public lifestyle at the beginning of 2017.
Whatever is behind this quest to lose seven pounds, we're wishing Kim the best of luck!
Your Daily Blend of Entertainment News
Your Daily Blend of Entertainment News
Thank you for signing up to CinemaBlend. You will receive a verification email shortly.
There was a problem. Please refresh the page and try again.