Is Brad Pitt Dating Right Now? Here's The Latest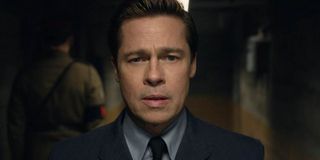 It has been less than a year since actress Angelina Jolie filed for divorce from actor Brad Pitt in September. The high-profile Hollywood couple split after about 12 years in a relationship, a year of which they spent married. Now, 53-year-old Pitt is picking up the pieces in the aftermath of the bitter breakup, but that doesn't mean he'll be dating anyone anytime soon.
An insider told People that Brad Pitt seems to be in better spirits now that he has put some space and time between himself and the fallout of his powerhouse relationship. In fact, both he and Angelina Jolie seem ready to move on from the upsetting issues surrounding the split, such as the refuted abuse allegations, the subsequent investigation, and the rumors about a secret Hollywood affair. The two stars reportedly are receiving assistance from a private judge to work out the details of their divorce as well as the custody of the six Jolie-Pitt children: Maddox (14), Pax (11), Zahara (10), Shiloh (9), Knox (7), and Vivienne (7).
After the breakup heard 'round the world, a lot of people questioned if and when the only two members of Brangelina would be ready to date other people. Within weeks, tabloids were already pairing up Pitt with other big-name actresses like Kate Hudson. However, insiders are reporting that Pitt does not seem eager to jump back into the dating scene at this time, but the star seems to be moving forward in other positive and social ways. The gist of what is being rumored is that he has friends over but that doesn't mean a lot.
The jury is still out regarding what exactly happened between Pitt and Angelina Jolie, who met on the set of Mr. and Mrs. Smith in 2004. Pitt has been mostly quiet about it. But a second source also said Brad Pitt has lost weight, appears to be in great shape, and seems much more content these days. Do you think he is working on his revenge body?
Looks aside, Brad Pitt is storming full steam ahead in his career. As we reported, Pitt is set to star in War Machine, the film whose rights cost Netflix a whopping $60 million. He's developing a World War Z 2 and a Lewis and Clark miniseries. So, it sounds like he is doing fine for himself.
Meanwhile, Angelina Jolie is by no means holed up in some moon cave. She's super busy these days, too. Last month, the 41-year-old star hit the ground running to promote the documentary she directed, First They Killed My Father, which also appears on Netflix. Now Hollywood is all abuzz with the news that Jolie is thinking about reprising her role as the Mistress of All Evil in a sequel to Maleficent. These bits of news should keep mom and dad busy on the career front, but we hope the tough transition behind the spotlight plays out in a way that is comfortable for the Jolie-Pitt kids.
Your Daily Blend of Entertainment News
Thank you for signing up to CinemaBlend. You will receive a verification email shortly.
There was a problem. Please refresh the page and try again.