Are Brad Pitt And Kate Hudson Dating Or Not?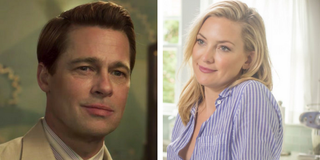 (Image credit: Allied and Mother's Day)
Has Brad Pitt already moved on to a new A-list movie star? The rumor is that in the midst of his divorce from Angelina Jolie, Pitt is cuddling up with his new flame Kate Hudson, but just how true are these rumors?
According to the tabloid Woman's Day, Brad Pitt and Kate Hudson are the hottest new couple in Hollywood. One of their sources reported that the two stars have gotten extremely close recently and are meeting up in secret, and Pitt's bodyguard was even quoted as saying that the new pairing would not be surprising to him. But don't be so quick to believe the news --- after all, wouldn't there be some photographic evidence of the two hanging out? Sources have told both HollywoodLife and Gossip Cop that the new relationship rumors are baseless.
It's not surprising that tabloids are feverishly trying to uncover (or, as is most often the case, fabricate) any secret romance Brad Pitt may be having while undergoing his divorce from Angelina Jolie. Pitt's first divorce from Jennifer Aniston in 2005 and subsequent relationship with Jolie set off a tabloid firestorm at the time, as speculation over whether the Brangelina relationship was considered an affair or not dominated celebrity media for a very long time. Given that nobody knows the real reason behind Jolie's recent announcement that she is divorcing Pitt, many outlets are hungry for a salacious repeat of 2005. In fact, one of the first things that many fans and outlets did after the divorce was announced two months back was look to Pitt's Allied co-star Marion Cotillard, assuming that he must again be cheating with his current on-screen partner.
Though many tabloids are holding out hope for a surprising new supercouple, we're guessing that romance is the last thing on Brad Pitt and Angelina Jolie's minds right now. It seems that the actual cause of the divorce had more to do with their children rather than any infidelity, as reports have centered on one incident in a private airplane in which Pitt allegedly got aggressive with teenage son Maddox Jolie-Pitt. Though Pitt was recently cleared of any child abuse charges related to this reported incident, it will only add fuel to the fire that is brewing as the couple prepares to enter into what many are predicting will be a messy custody battle over their six children. Angelina Jolie is filing for sole custody of the kids --- three of which were adopted in her name before Pitt co-adopted them --- while Pitt is expected to fight to retain partial custody.
We can't imagine Kate Hudson being interested in jumping into all the tricky personal and legal drama going on around Brad Pitt right now.
Your Daily Blend of Entertainment News