The Surprising Color Crayola Is Retiring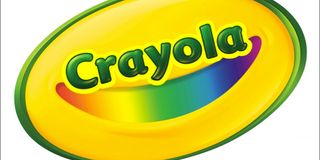 March 31 is Crayola's National Crayon Day. This year, the colorful art supplies manufacturer had a huge announcement for anyone who has ever loved coloring and being creative. Crayola took to Twitter to confirm rumors that it had decided to retire dandelion, a shade of yellow, from its roster of crayons in advance of adding a new crayon later this year. Dandelion became the first color ever pulled from Crayola's 24-count box set of colors. Check out the tweet below:
Crayola officially addressed the news on Twitter by saying dandelion had decided to "announce his retirement early." The statement presumably had a double meaning. Dandelion joined the lineup in 1990, so its removal came early compared to some retired colors. However, Crayola's tweet also managed to acknowledge the accidental early press surrounding the crayon's retirement. Apparently, before today's press conference, at least one retailer had already received Crayola boxes with marketing about the removal of Dandelion on them. A woman at a Target store in Marlton, New Jersey, snapped a photo of a 120-count box with "Dandelion is retiring!" written on the side, and her son posted the photo on Twitter with (an ironic) "#spoileralert" attached to it. The news went viral.
Nevertheless, Crayola wanted to give fans a chance to say goodbye to dandelion with a proper send-off and a press conference from Times Square in NYC. The event live-streamed on Facebook this morning. President and CEO of Crayola, Smith Holland, took the stage at one point to add a few words of inspiration for the young audience sitting in excitement at the event.
We believe creatively alive kids grow up to be creatively alive adults. Creativity is cool.
Crayola does not retire colors often, and as we mentioned, it has never retired a color from its 24-count box. The company first retired colors in 1990 when it bid farewell to eight crayons: maize, lemon yellow, blue gray, raw umber, green blue, orange red, orange yellow, and violet blue to its Crayola Hall of Fame and brought in a line of newbies: vivid tangerine, jungle green, cerulean, fuchsia, teal blue, royal purple, wild strawberry, and of course dandelion. Now that the company has plucked dandelion, the color will join the aforementioned retired crayons as well as 2003 retirees blizzard blue, magic mint, mulberry, and teal blue. It would not be unprecedented if Crayola decided to keep dandelion in the end; however, we think it's pretty unlikely. In 2003, Crayola "saved" burnt sienna after it received 60,000 votes from fans in the "Save the Shade" campaign, but it sounds like dandelion is ready to go.
Melanie Boulden, Senior Vice President of U.S. and Global Marketing at Crayola, first said that dandelion would not get removed right away. A person dressed in a dandelion crayon costume greeted the cheering audience of enthusiastic kids, and Boulden explained that Crayola is sending dandelion on an adventure before retirement. Finally, Boulden dropped two big hints about the new crayon that will join the colorful lineup later this year. First, the new color will be part of the blue family. Secondly, fans will be invited to help Crayola name the color this summer.
Until the replacement comes, dandelion will stick around with the 24-count Crayola box's other colors: red, yellow, blue, brown, orange, green, violet, black, carnation pink, yellow orange, blue green, red violet, red orange, yellow green, blue violet, white, violet red, cerulean, apricot, scarlet, green yellow, indigo, and gray. We love shades of yellow, but blues are also a favorite of ours. How about you? Will you miss dandelion, or is blue the shade for you?
Your Daily Blend of Entertainment News