Reese Witherspoon Celebrated Her Anniversary With An Adorable Message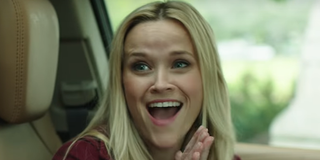 Oscar-winning actress Reese Witherspoon tweeted a loving message to her husband, talent agent Jim Toth, to commemorate their sixth wedding anniversary. The Big Little Lies star included a gorgeous photo of herself and Toth looking out over a seaside sky with a sunset full of brilliant colors. The picture is breathtaking, but don't take our word for it. Transport yourself to the seashore scene by checking out Witherspoon's tweet below:
Reese Witherspoon often does kind things similar to this. Her Twitter is filled with heartfelt messages of love and support for others, so it fills our heart with joy to know that she found someone who supports her and keeps her smiling after six years of marriage. It has been fun to see her and Jim Toth raise their family since they tied the knot on March 26, 2011 at Libbey Ranch, a.k.a Witherspoon's former country home and retreat in Ojai, California. In September 2012, Witherspoon and Toth added son Tennessee Toth to their blended family that includes Ava Phillipe and Deacon Phillipe, Witherspoon's two children from her previous relationship with actor Ryan Phillipe, which ended in 2006 after seven years of marriage.
It has been a busy time for Reese Witherspoon, who celebrated birthday number 41 on March 22 with her family. Last year, Witherspoon voiced the character of Rosita, an overwhelmed mother of a dozen piglets, in the animated film Sing. She joined the cast of Ava Duvernay's upcoming film adaptation of the classic book A Wrinkle in Time. She's even hinted at the possibility of a third Legally Blonde film this year, although that's not in development. Now she is busy promoting Big Little Lies, David E. Kelley's dark comedy-drama miniseries on HBO with other big-name stars like Nicole Kidman, Shailene Woodley, Alexander Skarsgård, Adam Scott, and Zoe Kravitz. So, we are happy to see the actress take a much-needed break to relax and enjoy the view from the beach with her handsome husband.
In fact, Reese Witherspoon--or the person to whom she handed her camera--has a great eye for photography. That sky looks like a watercolor painting, and that turquoise ocean is captivating. No wonder the happy couple stopped to take a glance. Come to think of it, Witherspoon's daughter, Ava Phillipe, is coming into her own as a celebrity with a growing base of followers on Instagram. (Do you think Ava took the picture?) The couple looks super comfortable, and we love the cozy-looking patterned pajama pants and oversized knit sweater on Witherspoon. Plus, who doesn't love when the temperature of the air is cool enough that you can wear a hoodie but warm enough that you can wear shorts? Looking at this peaceful photo makes us want to hop into our most comfortable pajama pants and share a cup of hot tea by the ocean with someone special.
Your Daily Blend of Entertainment News
Thank you for signing up to CinemaBlend. You will receive a verification email shortly.
There was a problem. Please refresh the page and try again.