How Carmelo Anthony Reportedly Justified Cheating On La La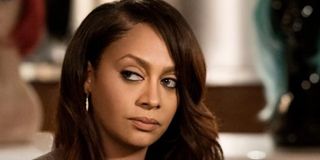 It might be the end of the line for the marriage of New York Knicks player Carmelo Anthony and television personality La La Anthony, as allegations of Carmelo Anthony cheating have come to light. Although such rumors about Carmelo Anthony are not new, the latest is that he might have hooked up with a strip club dancer, who became pregnant from the alleged fling. People in Carmelo Anthony's inner circle deny that claim, but other reports indicate that Anthony has long taken a cavalier approach to extramarital affairs. One report suggests Carmelo Anthony rationalized cheating by providing a surprising dismissal of his marriage to the 37-year-old actress and MTV VJ. Apparently, the NBA star validated past infidelities with a simple yet discouraging catchphrase: "She's married. I'm not."
Carmelo Anthony held the attitude that all professional athletes cheat on their spouses, a source explained to Page Six. His rocky marriage to La La Anthony reportedly weathered similar storms in the past, leading to separations, but the couple managed to work out issues and reunite on amicable terms. Nevertheless, depending on whom you ask, that is not entirely what might happen this time around. Apparently, La La Anthony is married... to the idea of staying in New York, while Carmelo Anthony is not.
Rumors suggest Carmelo Anthony might waive the no-trade clause in the final two years of his $124-million contract with the New York Knicks, which is picking up the pieces after a poor season. At the same time, reports say La La Anthony will not leave NYC anytime soon. After all, her career is blossoming right now. She has a role on Power. She has a part in the upcoming film Emergency Furlough with co-stars Whoopi Goldberg and Anna Paquin. Besides, she probably doesn't want to uproot her 10-year-old son, Kiyan, from his life in New York. So, opposing plans could be a factor in what is going on behind the scenes, as well.
Look, there are all kinds of marriages out there. Who are we to judge? We get it. We watch House of Cards. But when one's rationalization for cheating includes an acknowledgment of a spouse's continued devotion, one might want to give his or her bad behavior a second thought. Moreover, it sounds like there is a pretty solid prenuptial agreement in play and it could make matters tough for both parties, so that topic could be a caveat for a cheater to add to his justification spiel.
Hopefully, everything that happens between Carmelo Anthony and La La Anthony will play out in a good way for their son. La La Anthony is a smart woman, so if she were to step away from the relationship for whatever reason, she could certainly find love again. After all, she literally wrote the book on love, The Love Playbook: Rules for Love, Sex, and Happiness. As for Carmelo Anthony, we hope he cuts out whatever is happening behind the scenes to cause the cheating rumors. We're rooting for a positive resolution to this story, no matter what that may be.
Your Daily Blend of Entertainment News
Thank you for signing up to CinemaBlend. You will receive a verification email shortly.
There was a problem. Please refresh the page and try again.