Khloe Kardashian Admits She Would Marry Tristan Thompson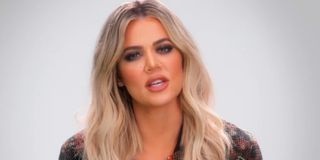 The past few years were rocky in the romance department for Khloe Kardashian. But it looks like the reality-television star has left those painful moments in the dust to race forward with a new beau, 26-year-old Cleveland Cavaliers player Tristan Thompson. Now Kardashian is opening up about the budding relationship and ways that it is improving her life. In a recent interview, Kardashian fielded questions about her Canadian sweetie pie, and when the interviewer asked whether or not Kardashian would accept a marriage proposal from Thompson, she gave a firm, straightforward answer, saying:
Khloe Kardashian previously stated on Keeping Up with the Kardashians that she wanted to keep her relationship with Tristan Thompson "close to her heart" because she learned from her past relationships. But in an interview with the Evening Standard, Kardashian gushed freely about her relationship. She and Thompson connected last year after when a mutual friend introduced them, despite Kardashian's insistence that blind dates were out of the question. Apparently, the introduction worked out smashingly. Here is what Kardashian said about the instant bond she and Thompson shared:
When it comes to dating Khloe Kardashian, the whirlwind of media following the Revenge Body star's every move must be a factor for any guy. But Kardashian explained that the heightened attention does not faze Tristan Thompson. After all, he is an NBA player who receives plenty of media attention in his own right. In fact, he appeared on Keeping Up with the Kardashians to meet the famous family, so he seems to be cool with the pressures of fame.
In the interview, Khloe Kardashian mentioned her desire to start a family, and getting married could fit into that equation. However, Kardashian and Tristan Thompson do not have any specific plans to wed or have children, though they have discussed what starting a family could look like for them. But what's the rush? They have been dating for less than a year. Their friend introduced them just last August, and there has been a lot on the agenda for both of them since then. Thompson now has a four-month-old son from a former relationship, and Kardashian only finalized her divorce from Lamar Odom a few months ago. It sounds like they are still figuring out what they want before any legal labels, vows, or Kardashian-Thompson kids.
Still, we're thrilled to hear that Khloe Kardashian is happy now and moving on from her rocky relationship with Lamar Odom. After everything Kardashian went through in that marriage, she deserves plenty of love in her life. At the same time, it seems like a good idea for her and Tristan Thompson not to rush into anything too soon, especially when one of them recently had a highly publicized divorce and the other recently had a kid with a different person. We'll keep you posted with any updates on this relationship.
Your Daily Blend of Entertainment News
Your Daily Blend of Entertainment News
Thank you for signing up to CinemaBlend. You will receive a verification email shortly.
There was a problem. Please refresh the page and try again.