Man Who Snuck Onto Kylie Jenner's Property Just Confessed To Murder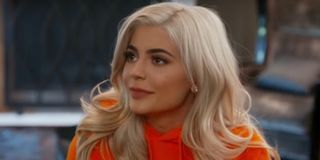 Not long ago, reality television personality Kylie Jenner was the target of a disturbed stalker who supposedly believed the starlet to be her soulmate. Luckily, the 19-year-old star of Life of Kylie managed to distance herself from the troubled man thanks to legal intervention. Now it turns out the situation could have meant the difference between life and death had it gone another way. Reportedly, the man has now confessed to murder. Yikes!
Marvin Magallanes, the 25-year-old man who stalked Kylie Jenner, allegedly turned himself into the Anaheim police and confessed to the murder of a 49-year-old homeless man. As TMZ tells it, the crime occurred in January of this year, and now Magallanes has reportedly admitted to doing it, the police have forensic evidence to suggest he was the culprit in the murder of another homeless man that occurred in October of last year.
Marvin Magallanes reportedly visited the home of Kylie Jenner at least ten times before police arrested him in 2015, when he appeared at her security gate and tried to get onto her property. The cops placed him on a psychiatric arrest, but he supposedly escaped from the psychiatric ward somehow. The police caught him again and detained him for 72 hours.
But the following year, the stalker drove to the gated community where Kylie Jenner lived, and told the security guards he was there to meet with her. The guards turned Magallanes away, but he returned the same way a second time and tried to smash through the security gate with his vehicle. The cameras caught the incident, so the authorities arrested him on two misdemeanor charges of vandalism.
These days, Kylie Jenner is safe and sound. In fact, she reportedly is staying at a beautiful mansion in Beverly Hills, while maintenance crews remodel her home. Still, this story is concerning, especially considering all of the times people have managed to break into the private quarters of celebrities in recent months.
Those scary events should hit close to home for Kylie Jenner and her entire family. Her supermodel sister, Kendall Jenner, was a target of a robbery earlier this year. And who could forget the terrifying assault and robbery of Kim Kardashian in October of last year during Paris Fashion Week?
We joked before that Kylie Jenner could be beefing up security at her residence in Hidden Hills. But the fact of the matter is her neighbor, Drake, was recently the target of an absurd break in at his home in the same gated community. Plus, a supposed break in at Kylie Jenner's home was recently a storyline for a Keeping Up with the Kardashians episode. So, knowing someone who has confessed to murder was a gate away, Kylie Jenner probably has a lot of security measures to take. We will keep you posted.