Check Out Michael Bay And His Dog Getting Their Feet Cemented At The Chinese Theater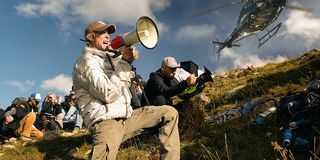 When you think of action film director Michael Bay, you might think of summer blockbusters with big explosions, fighting machines, natural disasters, and mutant ninja turtles. However, when Bay is not filming apocalyptic scenes, he evidently is a big softy who loves his dogs. Recently, the 52-year-old filmmaker received the honor of memorializing his feet and hands in cement, a cherished tradition at a theater on the historic Hollywood Walk of Fame. For the occasion, Bay decided to bring his furry pal, Rebel, a beautiful female English Mastiff. In fact, he dipped one of his dog's enormous paws into the wet cement alongside his. Check out the photo:
Michael Bay shared the delightful image with his 178,000 followers on Instagram, where he documents his adventures in filmmaking but also shares the limelight with his precious pups. The event took place at the TCL Chinese Theater, and Rebel looked content to participate with her human dad. Michael Bay did not remove his shoes for the imprints, and he seemed to have some trouble fitting his name in the space provided. Nevertheless, the added touch of Rebel's paw was priceless. Here is the final result:
Reportedly, the Teenage Mutant Ninja Turtles and Transformers director felt overcome with emotions during the ceremony. Michael Bay spoke with reporters and called the moment "a great, humbling honor." In fact, he suggested his directing career began at the TCL Chinese Theater, as it was there he decided to become a director. Therefore, he saw the honor as proof he had made a full circle in his career, and the moment made him misty eyed.
Michael Bay became Hollywood icon number 305 to have his hands and feet immortalized in cement at the theater. A week prior, Ridley Scott became the 304th person to enjoy the honor, so Bay is in good company. Other big names in Tinseltown, such as Anthony Hopkins, Jerry Bruckheimer, and Josh Duhamel turned up for the event to honor Bay. Duhamel shared kind words about how much Bay helped his career, saying,
So, it sounds like Michael Bay is always thinking about how he can pass the spotlight to other deserving people--or animals. As mentioned, Bay loves posting about his other dogs. Sadly, the director recently took to social media to announce the passing of his adult male English mastiff, Bonecrusher. Luckily, he still has Rebel as well as two puppies, Bumblebee and Nitro Zeus. (Fans of Bay's work may notice he likes to name his pets after characters in his films.)
We love seeing people filled with love for animals. As for Rebel, she certainly is a lucky dog.
Your Daily Blend of Entertainment News
Thank you for signing up to CinemaBlend. You will receive a verification email shortly.
There was a problem. Please refresh the page and try again.