Carrie Underwood Just Celebrated Her American Idol Anniversary In The Loveliest Way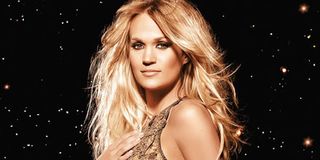 Country music superstar Carrie Underwood sang her way into the hearts of millions as the fourth winner of American Idol back in 2005. Twelve years later, Underwood remains humble about the talent show milestone that changed her life. On the anniversary of Underwood's big Idol win, the 34-year-old blonde bombshell took to social media to post a throwback photo and express her love and thanks for the place where her career began. Check out her memorable tribute to the win:
It is fun to see Underwood reflecting on that monumental moment when she beat fellow American Idol contestant Bo Bice on Instagram, sharing it with her nearly 6 million followers. Nowadays, Underwood is busy juggling her life as a mom, wife, and touring musician. She has shattered all the records for the earnings of American Idol contestants and some of the judges. She is an activist, model, philanthropist, and spokesperson. Plus, she sometimes dips her toes into acting, like when she played Maria in The Sound of Music Live! on NBC in 2014.
But before the world knew Carrie Underwood as a global megastar, she was a small-town girl from Muskogee, Oklahoma. She always had a powerful voice. In fact, she almost signed with Capitol Records when she was 14. However, by the time Underwood had graduated from high school, she had decided to focus on practical matters for a life in the real world, as opposed to a Hollywood life.
Still, Carrie Underwood loved singing karaoke, so when she was attending Northeastern State University, her friends encouraged her to try out for American Idol. She did, and in the first few rounds, she blew away judges Simon Cowell, Paula Abdul, and Randy Jackson with renditions of songs by Bonnie Raitt and Heart. At one point, Cowell even predicted Underwood would win the competition and also would become the greatest selling American Idol contestant of all time, and of course, he was correct.
American Idol went off the air in 2015 after 15 seasons, but recently ABC announced it had bought the rights to the show. The network plans to reboot the show in 2018. Katy Perry is going to be one of the judges, and she reportedly will have a huge payday from it. Ryan Seacrest is in talks to take on his former American Idol job, and Simon Cowell also got approached. There were rumors producers wanted Kelly Clarkson to be on the show, but she went to NBC's The Voice instead. Perhaps the producers should reach out to Carrie Underwood to see if and how she could help the show. After all, if this throwback photo is any indication, Underwood is happy to revisit her roots.