175 Years Later, Queen Elizabeth Takes A Train Ride To Commemorate The First Royal Train Journey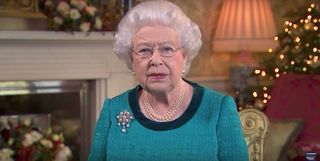 It has been 175 years since Queen Victoria became the first reigning British monarch ever to ride a train. Now Queen Elizabeth II and her husband, Prince Philip, have recreated this landmark journey by enjoying a train ride from Slough Station to Paddington Station in west London. Check out these pictures of Her Majesty and the Duke of Edinburgh arriving at the station:
In 1842, Queen Victoria remarked how "delightful" train travel was, and she indicated the motion was noticeable but not as bumpy as riding in a carriage; moreover, she enjoyed the lack of dust and heat. Train travel was a novelty when Queen Victoria, who was 23 years old at the time, took her journey. Today, Queen Elizabeth II uses trains often.
Her Majesty and the Duke of Edinburgh's trip left the station three minutes ahead of schedule at 12:01 p.m., nearly the same time Queen Victoria's train left the station all those years ago. Queen Victoria's original journey took about half an hour, while 91-year-old Queen Elizabeth II's ride came in just under 20 minutes. (In fact, the trip can be made in 14 minutes.)
Queen Elizabeth II and Prince Philip, who recently celebrated his ninety-sixth birthday and announced his eventual retirement from public duties, spent time in the waiting room of Slaugh Station before they got on the train. Queen Victoria had spent time there before her journey, as well. At the train station, Queen Elizabeth II and Prince Philip learned about the history of the Great Western Railway and saw artwork by local children. Take a look here:
Descendants of Sir Daniel Gooch and Isambard Kingdom Brunel joined Her Majesty and the Duke of Edinburgh. Gooch was the locomotive operator who drove the original train in 1842, while Brunel was the design engineer of the Great Western Railway line. Brunel also helped Gooch during Queen Victoria's historic trip.
The descendants of Sir Daniel Gooch and Isambard Kingdom Brunel had not all met one another before, and they remarked to People what a privilege it was to ride the train with Queen Elizabeth II, who apparently made the other passengers feel comfortable as she spoke about her love of trains and knowledge of them. In fact, Queen Elizabeth II reportedly talked about her knowledge of Queen Victoria's diary, especially entries regarding the landmark train ride from 175 years ago. Here are pictures the Royal Family posted to Twitter to show the Queen at the event with Gillian White, the great-great-granddaughter of Sir Daniel Gooch:
And here is the Queen with Isambard Thomas, the great-great-great-grandson of Isambard Kingdom Brunel:
Queen Elizabeth II and Prince Philip certainly are movers and shakers despite their age. The Queen, in particular, seems to always be headed somewhere. For example, she paid a visit to a children's hospital in Manchester last month to meet with kids and families affected by the terrorist attack there. Like the Duke of Edinburgh, Her Majesty is gradually moving away from official public duties and allowing Prince William, Princess Catherine, and Prince Harry to take on additional duties. So, seeing them having such a lovely day is delightful.
Your Daily Blend of Entertainment News
Thank you for signing up to CinemaBlend. You will receive a verification email shortly.
There was a problem. Please refresh the page and try again.