How Much Money Kylie Jenner Makes At Only 19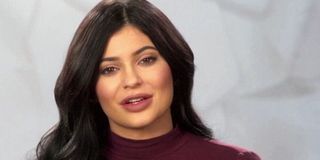 Kylie Jenner is the youngest of the Keeping Up with the Kardashians siblings, and although her brothers and sisters are exceptional earners, she is one of the wealthiest of the bunch. In fact, the 19-year-old reality television personality and cosmetics mogul apparently raked in some significant dough over the course of the past year and landed herself among the richest celebrities of 2017. Reportedly, Jenner earned a whopping $41 million.
The big profits shot Kylie Jenner to number 59 on the annual Forbes list of the world's highest-paid celebrities. She was one of 16 women on the list, and her big sister, Kim Kardashian, took a higher spot at number 16. However, Jenner was the youngest celebrity on the entire list.
Of course, Kylie Jenner has been stockpiling all the money she has made from appearances on Keeping Up with the Kardashians over the years. But these days, Jenner is building an empire all her own with fashion designs, hair extensions, smartphone apps, and several other ventures. For example, she runs the lucrative online store The Kylie Shop and earns a ton of money from her Kylie Cosmetics brand of lipstick lip kits and makeup palettes. Plus, she now stars on E!'s Life of Kylie, a new spinoff of the famous family's show. So, it sounds like there is no stopping her anytime soon.
At number 59, Kylie Jenner found herself nestled between Bruno Mars ($39 million) and Sofia Vergara ($41 million). She fared much better than some of our other faves, such as Jennifer Lopez ($38 million), Rihanna ($36 million), Britney Spears ($34 million), and Katy Perry ($33 million). However, Jenner will need to triple her profits if she wants to compete with the stars at the top---J.K. Rowling ($95 million), Beyoncé ($105 million), and Diddy, who came in at number one for earning a whopping $130 million. But Jenner is still a teenager, so she has plenty of time to work her way up the list and give those other celebrities a run for their money.
Last month, Kylie Jenner was shelling out $125,000 per month to stay at a lavish estate on a cliff overlooking Beverly Hills while she renovated her Hidden Hills home, which itself has an estimated worth of $12 million. The estate Jenner rented had a listed price of $35 million, so the cost to rent it seemed like a drop in the bucket in comparison to the total price tag. However, now it sounds like Jenner could probably afford to buy the estate if she wanted.
Unless Kylie Jenner experiences some major controversy or career-stalling event, next year probably will look even better for her because she can plug all of her brands on her reality TV show. Come to think of it, even if there were to be some drama, she probably would bounce back, use it to her advantage, and make even more moolah--the M.O. of the Kardashian-Jenner crew.
Your Daily Blend of Entertainment News