Rob Kardashian Instagram Deleted After Accusing Blac Chyna Of Cheating And Posting Graphic Pictures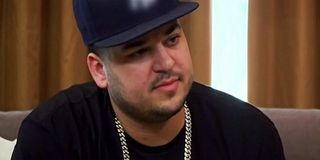 Rob Kardashian is having a terrible week. The 30-year-old reality television personality took to social media earlier this week to post a rant about Blac Chyna, the mother of his child. Kardashian made several harsh accusations about Blac Chyna and said she cheated on him, used him for his money and name, and abused drugs. Then he reportedly took matters further by posting and then deleting graphic pictures of her private parts, images she had sent to him earlier. By posting the images online, Kardashian sparked a heated debate about "revenge porn" and ultimately had his Instagram profile shut down.
After losing access to his Instagram account, Rob Kardashian decided to hop over to Twitter to explain the situation there instead. According to Kardashian, Blac Chyna caused him to flip his lid when she sent him videos of herself making out with a different man in the bed she and Kardashian used to share. Kardashian, who did not learn his lesson from losing his Instagram, continued adding fuel to the fire by posting the kissing video. Then he released a series of tweets and said,
Everyone loses no matter who is telling the truth in this situation. It is a shame these antics are happening when a baby is involved. Still, Rob Kardashian must feel devastated. He even tweeted,
On the other hand, Blac Chyna went on Snapchat and claimed that Rob Kardashian beat her up when they were still together. So, it comes down to a classic case of he said she said. But, lest we forget, Kardashian and Blac Chyna broke up months ago, so it seems they are having a hard time putting the drama of the past behind them. Hopefully, the former couple can work out a plan for the future. Also, it sounds like both of them could benefit from some time away from social media.