Ben Affleck And Jennifer Garner Have Officially Filed For Divorce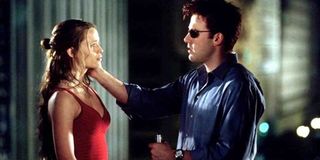 Well, it has finally happened. Jennifer Garner filed divorce documents on April 13, and Ben Affleck followed up by filing corresponding paperwork later in the day. The powerhouse celebrity couple announced their plans to divorce back in the summer of 2015, but because they did not file their divorce documents for nearly two years, there was media speculation about whether they were dragging their feet in hopes of reconciliation. Now we have a clearer image of how the Affleck-Garner divorce might look, and we have a better idea of what was possibly happening behind the scenes in the months leading up to the filing.
Jennifer Garner and Ben Affleck could be looking at a 50-50 split of their assets because they did not have a prenuptial agreement, so says TMZ. While both stars were impressive earners during their marriage, Affleck's professional efforts reportedly earned much more than Garner's; however, the word is that they left the spousal support numbers open for a judge to decide. On the other hand, they were firm about their united request for joint custody (legal and physical) of their three children Violet, Seraphina, and Samuel.
Rumor has it the couple never intended on reconciliation, despite stories they planned to stay in the marriage and have more kids. Instead, reports say Jennifer Garner and Ben Affleck quietly received help from a mediator to organize some of the terms of their divorce, as they allegedly did not have a prenuptial agreement when they wed on June 29, 2005. This suggestion would make sense, considering Jennifer Garner filed her divorce documents without a lawyer present while Affleck delivered his paperwork in the same fashion shortly after that, a possible indication that they coordinated their plans beforehand and worked out a cooperative approach to the difficult situation.
The ten-year marriage proved rocky at times for Ben Affleck and Jennifer Garner, but both stars navigated the ups and downs well. There were rumors of infidelity on Affleck's part, an alleged affair with a nanny, but Affleck squashed those stories and Garner herself said she never even heard a peep about such a story until months after she and Affleck had announced their intentions to divorce. Then we got news that Ben Affleck dropped out of his big plans to co-write, direct, and star in the solo Batman movie. Affleck bravely confirmed via social media that he had completed a program to help him address his struggle with alcohol, and he even mentioned how lucky he felt to have the love and support of his family, including Jennifer Garner.
In fact, neither Garner nor Affleck gave any credence to negative reports. They proceeded to speak highly of each other in the months after they announced their divorce plans in a statement that expressly said: "We go forward with love and friendship for one another and a commitment to co-parenting our children." For example, last summer, Affleck credited Garner as being "instrumental" in his ability to balance fatherhood and Hollywood. A few months later, Garner called her family "a modern family" on a morning talk show, and she explained that she and Affleck are great friends.
The divorce will mark the first for Affleck and the second for Garner, who was married to Scott Foley from 2000 to 2003. It sounds like the stars have a few more things to work out in the split, but they seem to be taking responsible attitudes toward everything. We're rooting for both Jennifer Garner and Ben Affleck, and wish them a transition that is as painless as possible, especially for the kids. Of course, we'll be here to give you more details on this story.
Your Daily Blend of Entertainment News
Your Daily Blend of Entertainment News
Thank you for signing up to CinemaBlend. You will receive a verification email shortly.
There was a problem. Please refresh the page and try again.