Jessica Simpson Totally Went Topless For Her 37th Birthday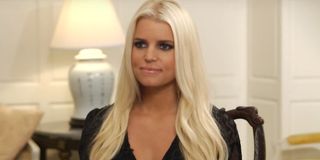 Jessica Simpson looked smoking hot as she celebrated birthday number 37 this week. The fashion designer and pop star marked the day by taking to social media to post a sexy topless photo of herself soaking up the sun. Simpson looked incredible as she relaxed on a green inflatable toy in a huge pool overlooking the California landscape. She appeared to be carefree with a summery drink in her hand. Plus, in the caption of the photo, she left a silly message for her age gone by and let 36 know what to do with itself. Check it out:
At 37, Jessica Simpson is looking better than ever. She is a prime example of the kind of person who makes people ask, "How does she do it?" Simpson and her husband, Eric Johnson, have a five-year-old daughter, Maxwell Drew Johnson, and a four-year-old son, Ace Knute Johnson. Simpson and the former professional football player are raising their children in California.
Meanwhile, Jessica Simpson is the head of the fashion empire The Jessica Simpson Collection, which rakes in the dough with sales from accessories, clothes, fragrances, handbags, jewelry, and shoes. Plus, Simpson reportedly has been back in the studio working on new songs for an upcoming album. So, she deserved this birthday time out.
Jessica Simpson looks fit and fantastic in the birthday photo she shared with her 3.8 million followers on Instagram, and people were quick to compliment her. However, the press has not always been easy on Simpson, whose weight has fluctuated over the years. But as a savvy businessperson, Simpson has let her weight changes inform her fashion design decisions to help her make better products for women. In fact, a few years ago, at the 2014 Forbes Power Women Summit, Jessica Simpson said,
Indeed, Jessica Simpson must understand women, as her brand sells about $1 billion in revenue each year, and she takes home a sizable chunk of that money in the range of tens of millions of dollars. But with all of that hard work, she deserves to kick back and relax in the pool.
Another thing Jessica Simpson seems to understand is how to throw the perfect birthday party. Her pool party picture looks super relaxed, but Jessica Simpson and Eric Johnson recently threw over-the-top birthday bashes for their children. For Ace Knute Johnson's recent fourth birthday, the celebrity couple put together a birthday party with a Moana theme. They even made the backyard look like the Isle of Te Fiti, which is Moana's home island in the movie, and they hired people to play Moana and Maui. Check out of a photo here:
Before that party, they threw a birthday party with a mermaid theme for Maxwell Drew Johnson's fifth birthday. Take a look here:
It seems like Jessica Simpson is always happy to celebrate a birthday. What a great attitude. Keep looking forward and tell the past to kiss it.
Your Daily Blend of Entertainment News
Thank you for signing up to CinemaBlend. You will receive a verification email shortly.
There was a problem. Please refresh the page and try again.