Why The VMAs Performance Was Not A Shot At Camila Cabello, According To Fifth Harmony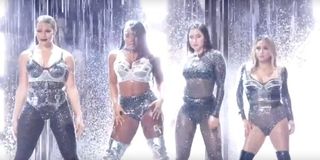 Fifth Harmony caused quite a stir during their performance at the 2017 MTV Video Music Awards when a fifth person momentarily joined them only to be launched off the stage. The stunt appeared to be a diss at the group's former bandmate, Camila Cabello, who quit last year. However, the symbolism behind the stunt might not have been so cut and dried. Fifth Harmony member Ally Brooke explained,
Hmm. Ally Brooke's explanation on GMA might help Fifth Harmony dispute rumors that the stunt came from resentment. The statement sounds fair. But it seems the stunt was at least a partial allusion to Camila Cabello, and many of her fans are not satisfied with Brooke's description of the performance trick. After all, Cabello was in the group for four years before she bailed to go solo with hits like "Crying in the Club." Still, Cabello moved on, and the remaining group members---Ally Brooke, Dinah Jane Hansen, Lauren Jauregui, and Normani Kordei---moved on, too. Fifth Harmony currently has another big hit on their hands with "Down" featuring Gucci Mane, and they just released their new eponymous album. So, in the interview, Brooke said,
The sentiment mirrored what Normani Kordei recently told USA Today when an interview turned to talk of Camila Cabello's departure. She did not deny how difficult the moment was. In fact, Kordei thought it akin to a divorce. She said,
In other words, there is no feud. The loss of the fifth member strengthened the group, but the fifth member could have been anybody. Hearing these statements, you might think everybody involved in the drama wants to move on from the bitter narrative. At the same time, the foursome had to know the symbolism of the stunt would conjure up talk of Camila Cabello.
The controversy has garnered no response from Camila Cabello. However, it seems likely she wants to put the negativity behind her. After all, her new album is called The Hurting. The Healing. The Loving., which speaks volumes about where she is on the subject. Here's hoping the hurt is over, the healing has begun, and the love is on the way for everybody.
Your Daily Blend of Entertainment News