Katie Holmes And Jamie Foxx Finally Seem To Be Confirming Their Relationship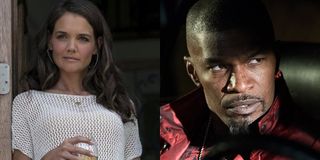 Jamie Foxx and Katie Holmes are finally showing off their relationship after years of speculation that they were an item. The actors recently held hands for a stroll along a Malibu beach on a breezy day, and they let the paparazzi capture pictures. Foxx took photos of Holmes on his smartphone, and later the couple retreated to the patio of a seaside restaurant.
Yes, people are saying Jamie Foxx and Katie Holmes confirmed their relationship by holding hands in public. It might not seem like a big deal, but it turns out holding hands might actually be pretty huge, and here's why. Allegedly, when Katie Holmes filed for divorce from Tom Cruise, there was a clause in the paperwork (either the prenup or the divorce documents) that prevented her from publicly dating anybody else for five years. Put a pin in that for a second.
First, let's discuss Jamie Foxx and Katie Holmes' courtship. They did not just meet this year and start going around holding hands. In 2013, a year after Holmes divorced Tom Cruise, the media noticed Holmes and Foxx flirting at a charity event in the Hamptons, but Foxx later denied rumors of romance. Then in 2015, pictures leaked to the internet and showed Foxx and Holmes canoodling at a recording studio. Then the Ocean's Eight and Kennedys actress appeared at Foxx's birthday party in NYC that year.
Six months went by, and then Claudia Jordan from The Real Housewives of Atlanta confirmed in a podcast interview that her pal, Jamie Foxx, was dating Katie Holmes. However, Jordan later recanted and said that she had misspoken. (Why?)
Since last year, the paparazzi have spotted Katie Holmes and Jamie Foxx several times, but the pair has managed to keep a surprisingly low profile for people in Hollywood. They went to a Barbra Streisand concert. They went to Cabo San Lucas in Mexico for Holmes' birthday. They got dinner in New York. They visited Paris on a private jet. All these things happened while they were still calling each other friends in interviews. There were no public displays of affection--until now.
So, let's jump back to why people say Jamie Foxx and Katie Holmes were keeping the relationship under wraps. Some people say Holmes wanted the relationship to develop organically without the forced PDA or power couple status that launched her into the awkward sensation known as TomKat. Meanwhile, as mentioned, others say the Cruise-Holmes divorce settlement had a clause restricting the actress from dating publicly for five years, and she accepted it to end the marriage as quickly as possible. (Why?! Paging Leah Remini; we need answers!)
Whatever the reason, Katie Holmes and Jamie Foxx wanted to keep everything quiet. In fact, the plot thickens. According to Daily Mail, sources say Holmes used to don wigs and disguises to go out on dates with Foxx without people recognizing her.
Jamie Foxx and Katie Holmes confirming their relationship by discreetly holding hands for a moment on the beach is certainly a far cry from the wonky kick-start Holmes and Tom Cruise's relationship received when Cruise jumped on Oprah's couch to profess his love in 2005. In fact, the whole TomKat moment was very public. Whether or not there was a clause in the divorce documents, it probably was a smooth move for Holmes to dial back the PDA. After all, both Foxx and Holmes have kids to consider. (Jamie Foxx has two daughters--23-year-old Corinne and eight-year-old Annalise. Holmes is 11-year-old Suri Cruise's mom.)
But now that Jamie Foxx and Katie Holmes are holding hands, who knows what will happen next! Here's hoping we see a hug by the end of the year.
Your Daily Blend of Entertainment News
Your Daily Blend of Entertainment News
Thank you for signing up to CinemaBlend. You will receive a verification email shortly.
There was a problem. Please refresh the page and try again.