Why One Direction's Zayn Malik Isn't Surprised He No Longer Talks To Harry Styles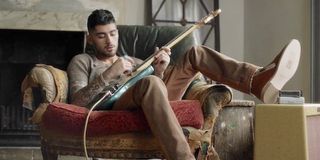 As teens, Zayn Malik and Harry Styles traveled the globe selling out shows and topping the charts together as colleagues in One Direction. That came to an end when Malik quit the band to pursue a solo career. In a recent interview, Malik admitted he and Styles are no longer in touch; however, losing touch was nothing personal. Malik said he and Styles weren't the best of friends to begin. Malik opened up about the matter in a recent interview and said,
It has been nearly two years since the guys of One Direction all went in different directions. These days, both Zayn Malik and Harry Styles are paving their ways as solo artists. But fans should not get their hopes up for a friendly collaboration between Malik and Styles anytime soon. Malik's statement was not mean, but it wasn't warm and fuzzy either.
Still, it is not the first time Zayn Malik has expressed lukewarm feelings about 1D. And at this point, Harry Styles seems to have moved on, too. Earlier this year, he responded to Malik's negative words about One Direction and wished him the best of luck.
Zayn Malik did tell US Weekly he would consider reuniting with One Direction, in perhaps in 10 or 15 years if he felt up to the job. For now, he is not thinking about it, because his solo efforts are doing well. Malik mentioned feeling this way in other interviews, as did other One Direction members, such as Niall Horan, who said almost the same thing when he released "Slow Hands" and joined Malik and Harry Styles as a solo artist on the music charts. In fact, all five guys, including Liam Payne and Louis Tomlinson, are busy promoting solo works.
Speaking of which, Zayn Malik said he and Louis Tomlinson reconciled after having a falling out two years ago. A while back, Tomlinson said his mom urged him to make amends with Malik before she passed away, so he reached out. That aspect is lovely, but Malik indicated the reconciliation did not rekindle the friendship in full. He said he keeps in touch with Tomlinson, but their friendship is not what it once was. Malik said that, in this way, all five guys are in some form of contact (except, apparently, him and Styles).
While it seems like a bummer, it comes across realistic, especially for five twentysomethings with solo careers in the highly competitive music industry. On the whole, it seems Zayn Malik has put One Direction behind him, and to be fair, so have Harry Styles and the others. The terms of friendships can change and grow just as people do, so what Malik said makes sense (even if it does sting a little for 1D fans).
Your Daily Blend of Entertainment News
Thank you for signing up to CinemaBlend. You will receive a verification email shortly.
There was a problem. Please refresh the page and try again.