One Surprise That Came With Having Kids, According To George Clooney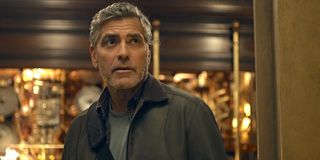 George Clooney is still getting used to being a first-time father at the age of 56. This year, the Academy Award-winning actor and his distinguished barrister wife, Amal Clooney, welcomed twins, Alexander and Ella. In addition to being a dad, George Clooney is busy as a Hollywood director promoting his new movie, Suburbicon, so many of his fans want to know how life looks now that he is wearing two hats: director and dad. In a recent interview, George Clooney indicated that he has found juggling jobs hard, but for him, the big difficulty of his unique working-dad situation is the extra duty that comes with twins. He explained,
Keeping the pace with not one but two newborns must be no easy feat, and while having access to the luxuries of celebrity life undoubtedly helps, George Clooney still seems to be facing the same rough road many new dads encounter. Clooney previously called it "terrifying" to be responsible for two infants, and he joked about his kids throwing up on his expensive clothes. However, he had yet to lean into talk of tough emotions and exhaustion---until now, that is. Clooney told Daily Mail,
That explanation sounds more realistic than George Clooney's previous jokes about the twins puking on his awards-show tuxedos. The article goes on to say George Clooney appears to have lost weight, and he has tired new-dad eyes. Apparently, the lifestyles of the rich and the famous do not make the early months of parenthood any less stressful.
In fact, the celebrity factor might add complications for George and Amal Clooney. For instance, they recently had to file court documents against a paparazzo who allegedly scaled the wall of their home to capture pictures of Alexander and Emma. The Clooneys sued the photographer and the tabloid that bought and published the photos. Talk about adding stress to an already intense situation.
No wonder Amal Clooney said she and George Clooney are done having kids. She and her husband seem to be handling the situation as best they can, but their introduction to parenthood has been a uniquely challenging, albeit happy one. After all, George Clooney did gush about his kids. For example, he remarked about how Alexander is ever-so-slightly bigger than Emma right now.
Thus, it is evident the hard work is worth it for George Clooney. He loves his wife. His kids are his pride and joy, and his work is rewarding. Despite the tired eyes, weight loss, and occasional paparazzi court case, Clooney seems to be settling into fatherhood quite well.
Your Daily Blend of Entertainment News