How George Clooney Feels About Being A Father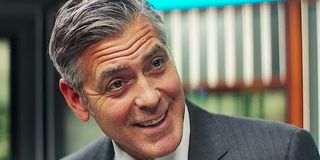 George Clooney wears many hats: actor, entrepreneur, filmmaker, and philanthropist. This year, the 56-year-old movie star added first-time father to the list. It has been a couple of months since he and Amal Clooney welcomed their twins, Alexander and Ella. Since then, many fans have been on pins and needles to hear how fatherhood feels for the Academy Award winner. In a recent interview, George Clooney shed some light on becoming a dad. From the sounds of it, his life has changed in all the best ways. Clooney said,
George Clooney's description of fatherhood seems like something many new dads say. The actor comes across a little bit freaked out and nervous, but it is clear he is having a blast. Clooney also joked with the AP and said he used to clean his own vomit off his tuxedos, presumably after too many adult beverages at functions in Tinseltown, but now he still has vomit on his tuxedos because of the babies.
Before the birth of the twins, Matt Damon teased about the kind of dad George Clooney might make. Damon, who worked with George Clooney on Suburbicon, said that his pal would be a great dad but also "a mess," and he said Amal Clooney would have to take care of everything.
While George Clooney's recent description of life as a father does not paint him as "a mess," except for the bit about vomit, it does indicate he has his hands full with the two little ones. Also, George Clooney said in the interview that his wife is "like an Olympic athlete" with the kids, so it sounds like Matt Damon's intuition was correct, and Amal Clooney truly is running a tight ship.
Of course, no new parenthood journey is easy. However, George and Amal Clooney have also faced stressful situations unique to people in their position as a Hollywood power couple. For example, a paparazzo allegedly managed to snap photos of the twins in the privacy of the Clooney home earlier this summer. According to George and Amal Clooney, the photographer had to trespass onto the property and scale the wall of the house to get the shots. Now they are suing over the incident. Clearly, that moment adds some weight to what George Clooney said about how "terrifying" it feels to be responsible for two babies.
Regardless, George Clooney's description makes it seem like he is rolling with all of the changes. It is fun to hear about him in this new real-life role, making a happy home for his growing family.
Your Daily Blend of Entertainment News
Thank you for signing up to CinemaBlend. You will receive a verification email shortly.
There was a problem. Please refresh the page and try again.