George And Amal Clooney Are Done Having Kids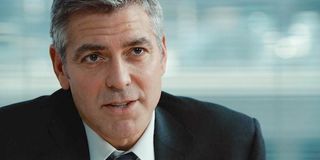 It has been mere months since George and Amal Clooney welcomed their twins, Alexander and Emma into the world. Fans of Hollywood families have yet to meet the little ones in any official capacity. Still, some people already want to know if the Clooney family's decision to have children once means they might expand their family again down the road. But Amal Clooney has a message for anybody asking questions. In a recent interview with the Suburbicon director and his barrister wife, a reporter asked what Amal Clooney thought about having more children. Not only did Mrs. Clooney shake her head, but she replied,
In other words, the idea of having more kids is out of the question for Amal Clooney at this time. Of course, both she and George Clooney clearly enjoy parenthood, but the twins seem to have them on their toes. The adage says age is but a number, but it makes sense to factor that number into the mix when planning a family. While Amal Clooney was 39 when the twins were born, George Clooney was 56. Based on what Mrs. Clooney told The Hollywood Reporter and what George Clooney has previously said, the Clooneys might share the opinion that they are too old to have more children.
Still, these days many people have kids later in life and find unique ways to expand their family. If Amal Clooney was to change her mind, she and George Clooney would have plenty of options, and they would not be the first people in history to have children after a certain age. Janet Jackson was 50 years old when she recently had her first child. Stars like Lucy Liu, Sarah Jessica Parker and Mathew Broderick, and Kim Kardashian and Kanye West have turned to surrogacy as an option. Plus, many celebrities, such as Madonna, Kristin Davis, and Ty Burrell have gone the adoption route.
Nevertheless, George and Amal Clooney sound happy without thinking about what comes next. In fact, George Clooney recently talked about how he doesn't plan anything anymore because the fact that he became a dad at 56 years of age came as such a shock. The thought of more kids might sound daunting right now while they are busy with two twin babies, but who knows what the Clooneys might think in, say, a year or two.
Plus, it sounds like George Clooney is doing well as a dad. During the interview, Amal Clooney gushed that her husband surprised her by being such a great father. Then George Clooney told the story about how he fell in love with his wife. In this way, the couple sound like they adore one another, so they might not want more kids now, but with such great chemistry, who knows? Of course, whatever decision they make will be the right one, and it is so much fun knowing they are enjoying their new roles as Mom and Dad.
Your Daily Blend of Entertainment News