The Sex Of Kylie Jenner's Baby May Have Been Revealed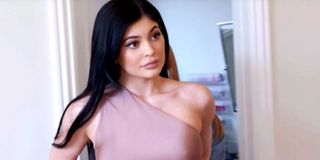 Kylie Jenner and her rapper boyfriend, Travis Scott, reportedly are expecting a baby girl. Word broke last week that the 20-year-old reality television personality was four or five months pregnant. When the rumors surfaced, there were reports Scott had told friends the baby was a girl. Now it seems the 25-year-old rapper was correct.
Supposedly, Kylie Jenner was the one to break the news of the pregnancy to her friends. However, some reports said Travis Scott told his pals the baby would be a girl. Now a source for TMZ has apparently confirmed that story.
Meanwhile, there has been no confirmation from the Kardashian-Jenner camp regarding the alleged pregnancy, or the baby's sex. Some people wonder if the silence is proof in and of itself. They point to times the Keeping Up with the Kardashians celebrities have jumped at the chance to discuss the complexities of their lives.
However, the famous family sometimes holds onto big stories for their show. For example, Kylie Jenner was tightlipped about her whole lip enhancement until she could admit on Keeping Up with the Kardashians that she had, in fact, received cosmetic surgery. Then she made her lips a signature piece of her brand and developed an empire focused on lip kits. (Maybe she will parlay pregnancy and parenthood into a new lifestyle venture.)
While Kylie Jenner and her peeps are keeping quiet, a quick review of her social media presence suggests the claims add up. Many of Jenner's social media followers have noted she has been posting many memory photos and pictures from the neck up. They call it out of character for the entrepreneur not to post about her daily life and show off her body.
Similarly, in June, Travis Scott tweeted he was having the best day of his life. He didn't add an explanation to the message, but rumor has it that was the day Jenner filled him in on the baby news.
Kylie Jenner's baby daughter will join a growing second generation of Kardashians. In fact, the Life of Kylie personality's 36-year-old half-sister, Kim Kardashian, is expecting a child with Kanye West via surrogacy, and the surrogate might give birth in early 2018. If Jenner gives birth to her baby girl early next year, the little one will have a cousin around the same age. Maybe they can all go to school at the same place Beyoncé and Jay-Z plan to send their newborn twins, Rumi and Sir. (Well, that might be a bit of a stretch.)
Kylie Jenner began dating Travis Scott this year after she split up with her rapper ex-boyfriend, Tyga, whom she had dated for two years. We'll have to stay tuned to see if Jenner, Scott, or anybody from the Kardashian-Jenner camp provides details about the matter.
Your Daily Blend of Entertainment News
Thank you for signing up to CinemaBlend. You will receive a verification email shortly.
There was a problem. Please refresh the page and try again.