Why Kylie Jenner Got Her Lips Done As A Teenager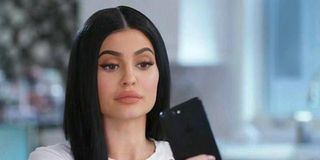 Kylie Jenner's lips sparked social conversation when she surgically enhanced them a few years ago. At first, the reality television personality was tight-lipped about the subject, but she later confessed achieving the effect with help from a doctor. Since then, Jenner has transformed her lips into her signature look, so during a therapy-session segment of her new show, Jenner was happy to discuss her decision to go trout. Apparently, Jenner long felt self-conscious about the natural slenderness of her lips, but the tipping point came when her teen crush mentioned them. Jenner explained,
Today, Kylie Jenner can reflect on her lips (among other things) on Life of Kylie, but long before she had her own television show, Jenner was the youngest sibling and girl next door on Keeping Up with the Kardashians. Her lips were not a big deal. They were just lips--neither here nor there.
Yet, so was Kylie Jenner. Then after debuting the fuller pouty look, Jenner's pout became iconic and so did she.
It was even iconic when Kylie Jenner initially denied enhancing her lips. Nobody bought it, but her denial provoked social media rants and think-pieces about the meaning of beauty and the price of fame. Suddenly, the name on everybody's lips was Kylie (Jenner, not Minogue). In fact, Jenner's lips even sparked a crazy Internet challenge that saw people sucking on shot glasses to emulate the heiress' pouty lips. (It never worked. Do not try it.)
Of course, Kylie Jenner eventually admitted the truth, but she sat on the announcement until she could confess on KUWTK. The scandal did not last. Like her famous family members, Jenner bounced back with smart business moves. Jenner was the queen of statement lips, so she tried selling lip kits with a little project called Kylie Cosmetics. The products sold out over and over again and plopped Jenner onto the Forbes list of the highest paid celebrities within a matter of months.
So, Kylie Jenner's crush might have got in a jab back when she was 15. But whose iconic, empire-inspiring, surgically enhanced lips are getting the last laugh now?
Your Daily Blend of Entertainment News