Watch Miley Cyrus And Adam Sandler Perform To Pay Tribute To Las Vegas Shooting Victims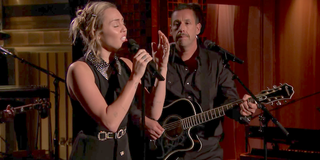 Following news of the tragedy in Las Vegas, Jimmy Fallon began his late-night talk show with a touching musical performance by Miley Cyrus and Adam Sandler. Cyrus sang lead vocals on a rendition of Dido's 2013 single "No Freedom" with Sandler accompanying her on guitar and contributing backing vocals. The moment was a beautiful surprise and a nice way to pay tribute to everyone affected by the tragedy. Do yourself a favor and check it out:
During the performance, Miley Cyrus' pipes were powerful, and Adam Sandler's contribution was touching, but the most compelling aspect was, perhaps, the depth of Dido's lyrics. "No Freedom" comes from Dido's 2013 album Girl Who Got Away. While the song is not necessarily an anthem for peace like John Lennon's "Imagine," Dido said after the song's release that people living in war zones around the world sent her letters about how the song's refrain had become a mantra of sorts for them. Therefore, the song was a fitting selection for Cyrus and Sandler to perform on The Tonight Show Starring Jimmy Fallon.
In fact, after the performance, Miley Cyrus joined Jimmy Fallon for an interview, and she talked about how much the song meant to her over the years. The 24-year-old pop singer mentioned other times she had sung "No Freedom," such as the Backyard Sessions for The Happy Hippie Foundation, and she explained that she loved the message and believes there is no love without the freedom to be happy and safe. Cyrus indicated people need to rely on love to crowd out the fear and negativity in the world whenever there are tragic events like the mass shooting in Las Vegas. She wrapped up her point with encouraging words and said,
Of course, the news is still pouring in about the Las Vegas shooting that killed 59 people and injured more than 520 people. While the story is horrifying, there are tiny glimmers of hope shining through. For example, reports say blood donors lined up for hours just to give blood to the victims. Similarly, there are vigils happening from coast to coast in the United States.
So, in this way, it was great to see Miley Cyrus joined by Adam Sandler. The two come from somewhat different backgrounds, but we often see both of their names on the marquee whenever a benefit concert gives them a chance to make a difference. For example, they both donated their money and time after the recent hurricanes. Also, Cyrus joined Ariana Grande's One Love Manchester benefit concert after the terrorist attack in Manchester this spring, and Sandler played a comedic song for the Hurricane Sandy relief concert in 2012. This time, Miley Cyrus and Adam Sandler's performance was not for a benefit concert, but it still helped put into words the feelings weighing heavy on the hearts of many.
Your Daily Blend of Entertainment News
Your Daily Blend of Entertainment News
Thank you for signing up to CinemaBlend. You will receive a verification email shortly.
There was a problem. Please refresh the page and try again.