Robert Pattinson And FKA Twigs Have Reportedly Broken Up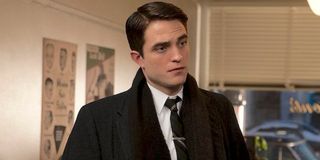 It appears the romance between Robert Pattinson and FKA Twigs might have reached its conclusion. Apparently, people close to the movie star and the musician said the couple decided to end their engagement and go separate ways after three years together. Details about the breakup are sparse, but here is what we know.
A source for Page Six revealed Robert Pattinson and FKA Twigs drifted over the past several months. Supposedly, they were always together in the first years of their relationship, but they recently began spending time apart. Now, Pattinson allegedly has told family and friends he and FKA Twigs, whose real name is Tahliah Debrett Barnett, separated because their relationship was no longer serving them well.
This summer, Howard Stern asked Robert Pattinson if he and FKA Twigs were engaged. Pattinson confessed they "kind of" were. Stern said he was surprised Pattinson opted not to reveal details about his relationship. However, Robin Quivers said she understood Pattinson's predicament and noticed how the Twilight star faced scrutiny in every romance. Pattinson verified Quiver's assessment and said it was difficult to protect his relationship with FKA Twigs because some fans of Twilight despised the fact he was in a relationship at all.
Nevertheless, there may have been trouble in paradise. After Robert Pattinson's radio interview, people allegedly saw FKA Twigs getting cozy with model Brieuc Breitenstein in Ibiza. Then people again spotted her out and about without her engagement ring. Reporters thought little of it because Pattinson and FKA Twigs later attended a Grace Jones performance together in London. But at that event, FKA Twigs supposedly asked paparazzi to delete photos of her and Pattinson, perhaps a signal that the relationship was nearing its final days.
Reportedly, Sienna Miller and Tom Sturridge introduced Robert Pattinson and FKA Twigs. Then the Good Time actor and the avant-garde musician secretly got engaged several months after they met, but they played it close to the chest and refused to say much about the engagement. Rapper T-Pain inadvertently revealed the news in a 2015 interview, but even then, it was radio silence from the couple save for the quick confirmation Pattinson gave Howard Stern this year.
Before Robert Pattinson linked up with FKA Twigs in September 2014, he dated actress Riley Keough, and before Keough, Pattinson was with his Twilight costar Kristen Stewart. FKA Twigs also had her share of romances before Pattinson. Last year, the musician told ES Magazine she was in an emotionally abusive relationship before she met Pattinson, and she described that former love as "messed up" and "addictive."
Robert Pattinson and FKA Twigs were spectacularly private during their relationship, so it is likely that they will continue to use discretion now, after the split. We'll let you know if any news comes down the line.
Your Daily Blend of Entertainment News
Thank you for signing up to CinemaBlend. You will receive a verification email shortly.
There was a problem. Please refresh the page and try again.