Lady Gaga Has A New Boyfriend, Here's What We Know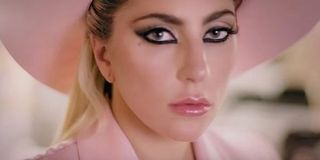 It appears Lady Gaga is happy in a new relationship. Mother Monster recently posted a social media photo of herself wearing a ruffled pink bikini and leaping into her new beau's arms in front of a dreamy sunset background. Later, the new guy in Gaga's life posted the picture on social and added the acronym "YATLOML," meaning "you are the love of my life." Take a look:
Apparently, Lady Gaga's new man is Christian Carino, her agent from the Creative Artists Agency. The press first buzzed that Carino and Gaga were dating when people spotted them kanoodling after her record-breaking, Emmy Award-nominated 2017 Super Bowl Halftime Show, so says Vogue. Carino and Gaga have kept a pretty tight lid on their budding romance, but now the move to post photos together seems to have made them "Instagram official."
Christian Carino shared the photo on his Instagram, which is relatively new compared to Lady Gaga's account. He only has about 5,000 followers and often shows off images of his new lover hard at work performing. (In fact, he represents several other big names in the business, like Justin Bieber, but he mostly focuses on his Lady.) Gaga also shared the romantic sunset picture in her Instagram Stories and on Snapchat, but she toned down the lovey-dovey aspect by covering the photo with a filter the read, "Sunday Fun Day," and she captioned it "Night night."
It has been a week of big social media moments for Lady Gaga. For example, before taking her new love to social, Gaga posted a powerful photo with five United States Presidents. Gaga, whose real name is Stefani Germanotta, stood with Jimmy Carter, George H.W. Bush, Bill Clinton, George W. Bush, and Barack Obama to raise awareness of One America Appeal, an organization raising money for hurricane relief. Later, Gaga returned to social to show off the plaque she received when her 2016 album, Joanne, earned a platinum certification.
With enormous moments like these, it makes sense Lady Gaga would send her casual, romantic posts to temporary outlets but reserve her main accounts for pictures highlighting her accomplishments. Many fans appreciate that Gaga seems to be easing into love again after a tough year in the romance department because of the end of her years-long relationship with actor Taylor Kinney, whom many fans supported.
Lady Gaga and Taylor Kinney got engaged in 2015 after dating for five years, but then they broke off the engagement in 2016. Back then, Gaga asked her followers on social media to pray for the well-being of her and Kinney's future. Aspects of their breakup and its aftermath appear in Gaga's Netflix documentary, Gaga: Five Foot Two. For example, in a phone call with her fashion designer friend, Brandon Maxwell, Gaga explains that she feels lonely, and she reveals that her breakup with Kinney marked the end of the third meaningful romantic relationship in her adult life.
So, it says a lot that Christian Carino went loud and proud with his social media post (and that Lady Gaga was cool with it). Many of Gaga's fans hopped over to his pictures and filled his comments section with words about how lucky he is to be with their idol and how he must treat her right. From the sounds of it, the "Bad Romance" singer is back in love with a new, good romance, and I love that.
Your Daily Blend of Entertainment News
Your Daily Blend of Entertainment News
Thank you for signing up to CinemaBlend. You will receive a verification email shortly.
There was a problem. Please refresh the page and try again.